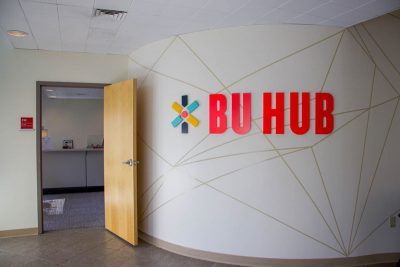 When Boston University initially launched its new general education curriculum, the BU Hub, at the start of the Fall 2018 semester, College of Communication professor John Hall said he opposed the changes. Two semesters into the Hub system, Hall said he appreciates the program's multidisciplinary approach.
The BU Hub aims to broaden students' education to navigate a more interconnected world, according to the program's website. All students who matriculate in fall 2018 or later must complete the program's requirements in six different disciplines, called "capacities," prior to graduation.
Eric Jarvis, the Hub's program manager, said the curriculum integrates academics more holistically into the undergraduate experience, as it is interwoven with other coursework, offers innovative learning experiences and encourages student exploration.
Incoming transfer students entering in fall 2020 and beyond are obligated to fulfill a modified Hub curriculum from the one taken by students who matriculated at BU as freshmen, according to Jarvis. He said the requirement policy for transfer students is still being finalized and approved by the university.
Hall said he has redesigned his courses and syllabi to better meet the various BU Hub requirements. He said he anticipates other professors underwent a similar process to adapt to the Hub, as well.
The Hub program's six essential "capacities" include Philosophical, Aesthetic and Historical Interpretation; Scientific and Social Inquiry; Quantitative Reasoning; Diversity, Civic Engagement and Global Citizenship; Communication; and Intellectual Toolkit.
Under each capacity are several subsections that target different skills, called "areas," in which courses are listed. For example, the Intellectual Toolkit capacity encompasses two areas: "Critical Thinking" and "Teamwork/Collaboration."
Within each area, every student must acquire Hub "units," the measurement for the Hub's requirements, and to graduate, they must amass 26 Hub units. According to the Hub's website, most students can accomplish this within 10–12 classes.
Hall said the new program encouraged him to create a more elaborate syllabus, adding extra details for semester assignments. His current "Understanding Film" film and television course satisfies a Hub "unit" for the Philosophical, Aesthetic and Historical Interpretation capacity.
In light of the implementation of the Hub, Hall said the film department also looked at the requirements to determine how it wanted to approach the program. The department collectively decided not to pursue one specific area under the "communication" capacity: writing-intensive course.
For a course to fulfill the writing-intensive Hub requirement, Hall said, students must produce at least 12 pages of finished written material and have opportunities to gain feedback.
Hall said he purposefully avoided adding heavy writing assignments to his "Understanding Film" course when reworking the curriculum because the changes would burden his teaching assistants.
"My TAs do all the grading in that course," Hall said, "and I didn't want to put the burden on them as master-level students to really do a lot of drafts of papers and have them give substantive feedback."
Students in the Class of 2022 said the transition into the Hub has been a complicated process and expressed mixed reactions over the multidisciplinary course requirements the curriculum entails.
Hall also teaches an "Introduction to Communication Writing," also known as COM 201, class and said his students in the class have been both receptive to the new initiative and critical of its implementation, expressing their praises and concerns through an opinion-editorial assignment in his class.
For the assignment, Hall's students chose if they were in favor or against the Hub and then had to present their opinion. Hall said one of his students who is in the College of Fine Arts displayed the schedules of students who are in CFA with the added Hub requirements.
"It evoked visually that the CFA students had these jammed-packed schedules with not a lot of time or opportunity to get the Hub credits," Hall said. "If you say it's an issue for one group, you have to really look at if it's an issue for everybody."
Since the Class of 2022 was the first class to matriculate into the Hub, Hall said several of his freshman students expressed confusion about what classes to register for. One student's COM 201 project compared Harvard University and Massachusetts Institute of Technology's general education systems to Boston University's.
Hall said that, according to the student, Harvard's course work was beautifully laid out and easily searchable, and MIT's was a multipage list of courses. In either case, Hall said he thinks there was some accessible way to search for courses.
Hall said he hopes BU can improve the advising and registration process for current and incoming students.
"Clearly that would be another facet that BU would want to build into its system — is to be able to filter those things," Hall said.
Jarvis said the Hub is working closely with advisors across the schools and colleges to provide resources and information to aid them in preparing students. He said the advisors within each school and college are beginning to collaborate to ensure students are being supported in the advising process.
Furthermore, Jarvis said the Hub is gathering feedback on the program from a variety of sources, including students, faculty members and advisors, and will be actively and rigorously assessing the curriculum over the course of the next few years.
Heran Haile, a freshman in the College of Engineering studying mechanical engineering, said she has run into issues with Hub because she has to accumulate 135 credits in order meet major requirements to graduate, which provides limited space in her schedule to take Hub courses.
"I was planning to minor in either computer engineering or political science, and I thought I could do it," Haile said, "but I can't apply those [Hub requirement] classes to a minor, and I have to do it for Hub."
She said she was unaware of the Hub at the time that she applied early decision to BU, and was accepted and had committed to the university when she found out about the Hub last April. Haile is not currently pursuing any minor, she said.
Katryn Tsvirko, a freshman in the College of Arts and Sciences, said she applied early decision, as well, and was unaware of the implementation of the Hub until after she received her acceptance letter.
Jarvis wrote in an email the Hub tried to provide updated and accurate information about the program to incoming students as soon as it became available.
"Because the BU Hub was a new program, it was especially important to share information about it with incoming BU students in a timely fashion," Jarvis wrote.
Tsvirko said going into BU before she knew the specifics of the Hub, she thought the AP credits she received would have fulfilled more Hub units.
"Even though I took all of these courses so I could be ahead of the game when I came into college, I was set back by the Hub," she said.
Jarvis wrote in the email that Hub units are only awarded through an AP exam if the exam specifically tests for the Hub area.
"For example, the Hub area of Teamwork/Collaboration might be awarded for a class taught on campus," Jarvis wrote, "but not be awarded through an AP exam because the exam doesn't test for Teamwork/Collaboration."
Josephine Olson, a freshman in the College of Arts and Sciences, said she favors the Hub and likes how one class can fulfill multiple capacities. Olson said she is taking full advantage of the permitted "double-dipping" by pursuing a dual degree in American studies in the College of Arts and Sciences and deaf studies in the Wheelock College of Education and Human Development.
Olson enrolled in a history course for the upcoming fall semester, titled "Understanding Revolution: France and Algeria," that counts toward units in three different areas, and thus three separate capacities.
"I like how it is interdisciplinary and covers multiple fields of study," Olson said. "It's a good way to get multiple Hub requirements filled in fewer classes."
Olson is currently enrolled in an environmental science course, titled "Crises of Planet Earth," and the 100-level course also triple-counts toward three of the Hub's area requirements.
"I think it is definitely going to make it easier for there to be a baseline of requirements for all students at BU because if you change majors, the basic requirements are still there," Olson said.
Olson could likely graduate early, she said, but instead wants to take advantage of her time at BU with the dual degree. However, she said it's difficult to have her four-year schedule set in stone since upper level courses have not all been approved to fulfill Hub requirements.
The process of integrating the Hub into upper level courses is an ongoing process for colleges within the University, Jarvis said, but the new general education curriculum does not have any bearing on students' ability to graduate early or late.
"The Hub is not asking students to do any more than they would have necessarily had to do before the Hub was implemented," Jarvis said. "It's still about 10–12 courses, which is about what is was before the Hub was implemented."
Olson said she had hoped to take a general statistics course when she heads home to Illinois this summer at a nearby institution in order to get ahead on credits, but refrained from registering after learning it would not satisfy the "Quantitative Reasoning" Hub unit requirement.
Jarvis said since the Hub is strictly a BU program, coursework taken at other institutions will not carry Hub units. While students can receive credit toward their degree and where applicable to major and minor requirements, Hub units are not earned through transfer courses.
"Hopefully, they will find a way to make it work where we can get Hub credits for a class that is the same," Olson said. "That will make it easier for people to take summer school classes near home or wherever they're going to be over the summer."
At the end of the day, Hall said he promotes anything that gives students access to a wider array of study, as long as the process isn't too confusing or cumbersome.
"I hope BU students will find themselves taking classes outside of their majors," Hall said, "that will open up new worlds and better prepare them for the working world and constant change."