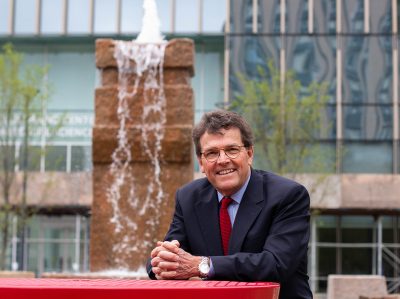 A white wooden bookcase that stretches from floor to ceiling in College of Communication Dean Thomas Fiedler's office serves as his personal library. One shelf of the bookcase is dedicated to the work of faculty who have taught at COM over Fiedler's nearly 11 years at the head of the college.
Fiedler, who is retiring next month, describes the work he's done as the Dean of COM as rewarding.
"It's something that's heartwarming," he said. "It's soul-satisfying work, and I'll miss that."
A COM alumnus himself, Fiedler earned a master's degree in journalism from the college in 1971. He then went on to work at the Miami Herald for more than 30 years before becoming dean of the school.
During his time at the Herald, he reported on the scandal surrounding presidential candidate Gary Hart in 1988 that killed his campaign, and he won a Pulitzer Prize in 1991 for an investigation into a religious cult.
"If you think of life lived in a circle, I am back, I am finished where I started in a very positive way," Fiedler said. "That is a gift, and I am very appreciative about it. In completing that circle, I am able to give back and help build forward for the future."
Fiedler serves as the U.S. President of the Board of Trustees for The Conversation, a not-for-profit, independent global news network, and will continue to hold this position after his retirement from COM. He said he will also volunteer for U.S. Sen. Cory Booker's 2020 presidential campaign and plans to get back into writing more and travel with his wife.
"I'm excited about that part — something that makes you say, 'Sounds fun!'" Fiedler said. "I have the time, and I'm going to do it."
While Fiedler will miss the faculty and staff, he said, he will miss interacting with students the most. He said he has built relationships with individual students, even when they were mere high schools seniors looking forward to attending school at BU.
Over the years, Fiedler said he has appreciated the "unique experience" of watching students progress from their first day of college to their graduation, and even after they become working professionals.
"There is the kind of reward that I have been able to get here, and I've never seen that before in my previous work in journalism — seeing the transformation that takes place," Fiedler said. "I truly enjoy being a part of that. That is truly special."
Dustin Supa, senior associate dean in COM, said he first met Fiedler approximately eight years ago but has only started working closely with him in the past two years.
He said Fiedler struck him as "down-to-earth" upon first impression.
"When you first meet him, you don't know what to expect," Supa said. "I mean, you're meeting one of the most influential journalists of the past 30 years."
Fiedler said at present, the field of communications is profoundly changing through the use of technology, and communicators have no choice but to adapt and evolve with the changing technological landscape.
"I think it is critically important for us, here in the College of Communication, to make sure that we were able to not just adapt to the change as it was coming, but to try and anticipate what that change would be," Fiedler said, "and then position in such a way that when we adapt it, it was a almost a seamless shift in that direction."
As BU climbs the rankings of top universities nationwide, Fiedler said the school has "evolved in a strong, positive direction."
"It's humbling to walk into a conference, for instance, of educators to find that when people talk about Boston University in these organizations, they talk about Boston University and the College of Communication as being among the gold standard in a way — schools that others look to and aspire to match," Fiedler said.
Traci Hong, an associate professor in COM, said Fiedler has had a tremendous run as a dean. She has seen the student population grow and the quality of students improve during his time as a dean, she said.
"Deans have to make hard choices, it's not always easy and you can't make everybody happy, but I think he's always tried to make the best decision for the college," Hong said. "As a faculty member in a research university like BU is, that's a breath of fresh air. You have a Dean that supports research, who is interested in the truth and is interested in generating knowledge."
Supa said Fiedler has balanced the practical and theoretical side of communication practices well and that he has a strong understanding of academics.
"He's had a great first career as a journalist and a great second career in academia, and he's going to have a great third career in what he chooses to do," Supa said. "I've enjoyed working for him and with him."
As he prepares to leave COM, Fiedler said he is optimistic about the future of the college. The Dean's successor hasn't be announced yet, but Fiedler said the decision will be made soon.
"It's like a sailboat with strong wind in our back, we're just going to go," Fiedler said, "so I feel like I'm optimistic about what it's going to be."
Fiedler said he does not like the word "bittersweet" to describe the feeling of parting with a memorable place. Rather, he said he prefers the word "sentimental" for the change that is going to unfold.
"Change is disrupting whatever comfort patterns we have," Fiedler said. "But at the same time, there are some opportunities I'm looking forward to that I've never done, so that's exciting."