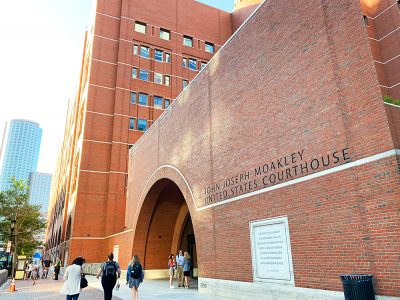 A federal judge in Boston sentenced actress Felicity Huffman to 14 days in prison Friday for her part in the college admissions scandal, in which parents allegedly hired a consultant to bribe college officials and fake test scores to boost their children's chances of getting into a prestigious college.
Huffman was charged with conspiracy to commit fraud for paying a private consultant $15,000 to correct her daughter's SAT answers, according to the official plea deal released by the U.S. Department of Justice March 27.
The verdict marks the first sentencing of a parent implicated in the national college admissions scandal that emerged in March. The charges carried a maximum penalty of incarceration for 20 years and a maximum fine of $250,000, according to Huffman's plea deal.
Huffman was one of 34 parents accused of participating in a scheme exposed by a Federal Bureau of Investigation inquiry codenamed "Operation Varsity Blues," according to the New York Times. 
Those involved allegedly conspired with consultant William "Rick" Singer to increase their children's chances of admission into a top college by falsifying test scores and academic records and getting their children recruited as athletes despite having never participated in the sport, according to the New York Times.
In Huffman's plea deal, federal prosecutors originally recommended a sentence of one month in prison, a $20,000 fine and one year of supervised release.
Judge Indira Talwani, a United States District Court judge in Massachusetts, ultimately decided to assign Huffman a lesser punishment, sentencing her to complete 14 days in federal prison, pay a $30,000 fine, complete 250 hours of community service and submit to one year of supervised release, according to the New York Times.
Huffman will begin her sentence on Oct. 25.
While Huffman is the first parent to be sentenced, John Vandemoer, a former sailing coach at Stanford University that was accused of accepting over $500,000 in bribes to recruit students, was the first person involved in the scandal to receive a verdict, according to US DOJ charging documents. He was sentenced in June to one day in prison and a $10,000 fine.
Judy Van Ingen, 72, of Cambridge said while she does not agree with Huffman's actions, she also disagrees with the act of separating a mother from her children. 
"I don't think she should be in jail," Van Ingen said. "A fine is enough punishment, I think." 
Gail Disabatino, 64, of Downtown Boston said she believes Huffman was driven to involvement in the scandal by power and privilege more than she was motivated by extreme stakes in the college admissions process.
"I think the fact that people with the resources are finding ways to avoid fairness in college admissions is one of the main issues," Disabatino said. 
Arva Hassonjee, 23, of Fenway said she believes that people should focus more on nationwide issues of how wealth is utilized rather than Huffman's individual crimes. 
"I don't think that punishing one person is really the answer to this," Hassanji said. "Obviously, she deserves some sort of consequence for her actions, but I don't think it's going to solve the issue at large."