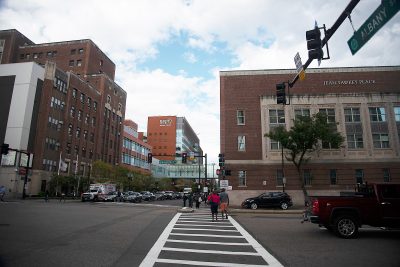 By Nyah Jordan and Melissa Ellin
A suspect has been arrested and charged with manslaughter in a homicide investigation following a stabbing on Boston University's Medical Campus that occurred at the intersection of Massachusetts Avenue and Albany Street on Sept. 18.
Officers arrested Gerald Lenzel Bowens, 25, of Malden on Sept. 21 around 9:30 p.m., according to a statement released by the Boston Police Department. His arraignment is set for Sept. 23 in Boston's Municipal Court.
The stabbing took place on Sept. 18 around 9:12 p.m. in the South End adjacent to BU's medical campus. Bowens had been seen fleeing from the scene on a bicycle, according to a BU Police Department emergency alert released the night of the incident to BU students.
Timothy D. Walton, 32, of Roxbury was identified as the victim. Walton later died from his injuries at a local hospital.
Ravi Patel, a graduate student in the School of Medicine, said he is used to the crimes going on around him and said he feels better knowing that the Medical Campus is always keeping their students updated.
"I think the climate around the BU medical campus is that it can kind of get scary at times," Patel said. "I've kind of gotten immune to these stabbings and rough scenarios, but because the BU med campus is so vigilant about following up and also about texting us, it makes me feel safer."
Sarah Keller, a graduate student in the School of Public Health, said she understands BU is trying to do their best with communicating with students, but she feels the alert came too late. Keller said she had already seen the crime scene and walked home before even getting an alert from BU officials. 
"They texted us at what, midnight? At the point, which was three hours after it happened," Keller said. "At that point, I had literally walked through the caution tape."
Abir Chowdhury, a first-year graduate student in SPH, said he was shocked he had heard about a stabbing within his first few weeks on being in Boston.
"The initial reaction was, 'Wow, I can't believe that already happened,'" Chowdhury said. "I didn't necessarily expect it to happen within my first three weeks of being a student here."
Emily Doucette, a graduate student in SPH, said she thinks BU does a good job with sending out alerts to keep students aware.
"I did notice that there was an increased police presence," Doucette said. "I don't feel unsafe here knowing that there's usually not students involved. It's a bit more comforting that they're trying to tell students that this thing is happening, but it's not affecting the student body specifically."