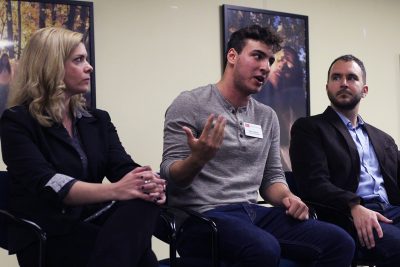 Moving off campus can be a daunting prospect — finding a good broker, budgeting for rent, avoiding rats in Allston — that's why the Howard Thurman Center partnered with BU Today to host a panel Tuesday giving students advice for off-campus living.
Panelists Kim Santo of Judicial Affairs, Michael Lantvet of the Educational Resource Center and Damon Musso, a senior in the College of Communication, informed students about how to navigate off-campus living.
The panelists were positioned at the front of the HTC in the basement of the George Sherman Union with a few students in attendance at this first panel. Also in attendance were members of the HTC.
Doug Most, executive editor for BU Today, said in an interview he wants to bring the university publication closer to students through more panels like this.
"I am looking for ways to take our content, the stories we produce and push them out in other ways, not just an article," Most said. "We can do a podcast, an event, we can do other things."
After publishing their article, "Big Decision: Should I Stay On Campus or Move Off?" by Joel Brown, BU Today decided to bring this question directly to the students, Most said.
One of the most predominant topics of conversation between students and panelists was the costs of living off campus, such as a broker, additional utility costs like groceries and wifi and transportation expenses.
Santo said for popular off-campus locations like Allston, Brighton and Mission Hill, the minimum cost that most students should be paying in rent is around $700 to $800, plus the cost of another month's rent if you are interested in a broker.
Musso said students moving off campus must learn how to balance their academic life as an off-campus student.
"As soon as you change the game, you also have to change your strategy," Musso said.
If students are willing to adapt their routine and go through a bit of an adjustment period, off-campus living is definitely a doable experience, Musso said. He also said that academic schedules are very inconsistent, which requires some careful navigating.
Liliana Torres, a sophomore in Sargent College of Health and Rehabilitation Services, said she found the information from panel helpful and valuable.
"I didn't know that there was a website for off-campus," Torres said. "I didn't even know what a broker was … just a lot of things about the housing process in general."
Faisal Halabeya, a sophomore in the College of Arts and Sciences, is a student ambassador for the HTC and said he is not thinking of living off-campus, but was interested in learning about it.
"I am curious to see the other side of it … what it's like living off campus," Halabeya said.
Most also notified the group that the next panel will be about finance and money in college. The panels will be occurring monthly, in addition to a podcast to increase student engagement and interest.
"Anytime the Howard Thurman Center puts on an event," Halabeya said, "you know it's going to be good."
In honor of National Newspaper Week, we're asking you to make a donation to The Daily Free Press. The financial support of our community is important now more than ever to help us continue writing stories like this for readers like you. Please chip in whatever you can. Read more and make a donation here. Thank you.