Every kid knows the question, "what do you want to be when you grow up?" and has probably been asked it a few (hundred) times by teachers, relatives and just about every other adult they come into contact with. Answers range from movie stars to presidents to astronauts, but as kids grow up, life often gets in the way.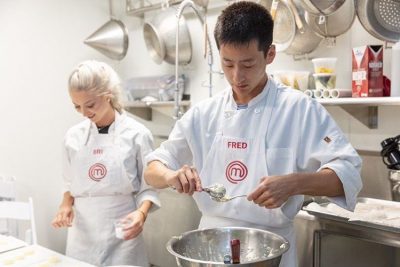 Fred Chang, a Boston University alumnus who graduated from the School of Hospitality Administration in 2017, said he came to BU with the intention of becoming a chef or bakery owner. But after majoring in hospitality and management with a stint in hotel accounting, Chang said, his dreams got a little sidetracked.
That is, until he appeared as a contestant on Fox's cooking competition show "MasterChef," making it all the way to the top ten.
"I'd say it was probably the most surreal and thrilling thing I've ever done in my life," Chang said. 
After graduating, Chang said he sustained his love for cooking with his online blog "Freddy's Harajuku" and through watching cooking shows — "MasterChef" included.
He watched all nine seasons and said appearing as a contestant on the show's 10th season was the experience of a lifetime.
Chang, who was eliminated from the show on Aug. 8 after 17 episodes, said he experienced lots of memorable moments as a contestant⁠ — one of which saw judge and famed chef Gordon Ramsay lick his plate after trying the dish Chang auditioned with, a chocolate cake. 
Following his elimination from the show, Ramsay put Chang in touch with pastry chef Chrsitina Tosi, who also happens to be the owner of the trendy pastry shop Milk Bar — Chang now has an internship at their LA location. 
But having esteemed chefs like Ramsay judge his food on national television was daunting, Chang said. 
"It only really dawned on me, like with my audition, that he's going to be tasting my food and if he doesn't like it, that can be publicized for the world and that could be very mortifying," Chang said. "It was a lot of pressure because I didn't want to let someone who is of that calibre down, but whenever he did like the food that I made, it felt very gratifying."
MasterChef, on average, draws more than 3 million viewers per episode. While Chang said that it's easy to get nervous being on national television, he said he decided early on to just be himself. 
"They wanted Fred to be Fred," Chang said, "so Fred shall be Fred."
Caroline Rickert, a BU alumna from the College of Communication who graduated a year after Chang, works as an associate producer for "America's Test Kitchen," a cooking show that filmed in Brookline for its first 18 seasons before moving to Boston for its 19th. 
Rickert said the process of filming a show like "America's Test Kitchen" is very different from filming a competitive cooking show like "MasterChef."
"They're timed, which is stressful for the people involved, who are cooking on camera," Rickert said. "And also with 'MasterChef' they have maybe 12 stations and so you need to have enough cameras to cover all of that." 
Rickert also said that for the most part, competitive shows like "MasterChef" are focused on capturing a moment as it's happening and therefore don't film retakes. On a show like "America's Test Kitchen," on the other hand, they refilm anything that goes wrong.
"I think also one of the one of the parts of the competition show that is appealing to a lot of people is you get to see all the mistakes happen," Rickert said. "It adds to the drama." 
Over the summer, Malaika Moyer, a junior in COM and a summer intern at SHA, covered Chang's time on "MasterChef" through the school's social media.
"I think it's great to see any BU alumni do great things like go on 'MasterChef," Moyer said.  "The process to get on the show is intense, and having only graduated two years ago, making it to the top ten really speaks to Fred's talent and determination."
Chang, who continues to regularly post on his recipe blog, said he encourages everyone to pursue their passions. 
"If anyone has anything that they're really passionate about, don't be afraid to put yourself out there and try to pursue it, because you never know what will happen one day," Chang said. "You might be just cooking for your parents and family, the next you might be cooking for one of the biggest culinarians in the world."
Correction: Fred Chang was in 17 episodes of MasterChef. The most recent version of this article is updated to reflect this.