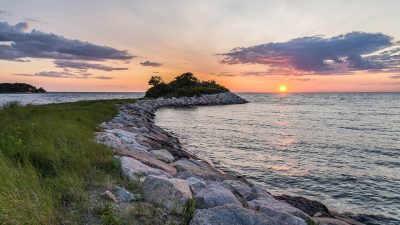 By Kate Gilberd and Amanda Cappelli
The effects of climate change on Cape Cod were discussed at a panel hosted by The Boston Globe at the Boston University Questrom School of Business Tuesday.
The event was inspired by the Globe's article, "Climate Change at Cape Cod: At the edge of a warming world," which addressed the ways climate change is affecting Cape Cod, such as eroding beaches, hotter summers and more frequent storms.
The panel was made up of Globe writers who worked on the piece, BU professors and individuals involved in climate change legislation.
The event began with a discussion about how to write about climate change in a way that makes the issue feel personal to readers.
Steven Wilmsen, the Globe's narrative editor, said during the panel the goal of the article was to make the threat of climate change on the Cape, such as shore erosion, feel "intimate, real, and tangible," as opposed to a more scientific style of writing.
"This is a force that is not only changing the coastline, but the fabric of [Cape Cod] itself," Wilmsen said. "So, we really formed our story around that idea."
Wilmsen said this piece was one of the most popular Globe articles of 2019, with more than 100,000 readers in the first five days after it was published. 
Globe columnist and lead reporter for the article Nestor Ramos said the article was able to "bring it home in a way that people can feel, and taste, and smell." 
John Ohman, a legislative representative for the Cape's Barnstable County and a business owner quoted in the piece, said at the panel climate change is an urgent problem. 
Ohman lost his oyster shack, Liam's, in 2018 due to a powerful nor'easter. Climate change is one factor causing increasingly powerful storms which are reshaping of the Cape's beaches and affecting local businesses like Liam's. 
"The beach is not going to be there in the next few years," Ohman said. "History is not going to repeat itself … and we better get used to it."
Linda Deegan, senior scientist at the Woods Hole Research Center that studies climate change and potential solutions, said during the panel the issue of climate change needs thoughtful dialogue and communication to make sure every person is informed. 
"You have to give people the information," Deegan said, "but you also have to make it accessible so that you can understand how critical, near term and important this is."
Deegan said people covering climate change must also be careful to not scare people to the point of putting their "heads in the sand."
Ramos said most people now recognize that climate change is a real threat because of past effective climate change communication. The globe article treated climate change as an absolute reality, ignoring claims from climate deniers.
"Once you make [climate science] an argument, you've sort of lost." Ramos said.
Current legislature and community solutions were also discussed during the panel. Julian Cyr, Massachusetts state senator representing the Cape said he thinks that Massachusetts as a whole has met the climate crisis well.
"[Massachusetts] has broadly been a leader in climate disruption," Cyr said.
Deegan said the next step to combating climate change is to recognize the world is changing and to change with it. 
"We have to get more comfortable with the fact that the world is changing around us," Deegan said. "If we remain static, we'll be underwater."
Dalilah Mostoslavsky, a junior at Boston Latin School's Youth Climate Action Network, said during the panel climate change will affect her more as a young person. 
"It's our generation that's being affected the most, especially being in [Massachusetts] Bay," Mostoslavsky said. "It affects all of you, and it's going to start visibly affecting us very soon."
Osasenaga Idahor, a junior at Boston Latin and a member of Youth CAN, said it's important to find the balance between telling people the threat of climate change and exciting them about the solutions.
"It's really hard to get people to want to do something," Idahor said. "Part of getting people to care about climate change is scaring them, but it's becoming more important that we don't just scare people away."
Zoe Nagasawa, a junior in Youth CAN, said in an interview after the panel that an important takeaway from the panel discussion for her was how climate change disproportionately affects minorities.
"[Climate change] is very connected to social justice," Nagasawa said. "It's going to affect people of lower socioeconomic status first and worst and that's very important for people to know." 
Although the audience was mostly comprised of older Boston and Cape Cod residents, students from BU's PRLab attended the event. 
Sarah McAtamney, a senior in the College of Communication, said the panel opened her eyes to how local the issue of climate change really is.
"I've always been an advocate for finding solutions to climate change," McAtamney said. "I didn't realize how terrible it was [in Cape Cod] and it's really sad to see."
Danielle Lirette, a senior in COM, said she believed the article and panel made climate change a personal issue for many of the audience members. 
"This is my state, the one I grew up in and the one I have pride in, being hurt by climate change and that's really scary," Lirette said. "I thought this was a great forum."