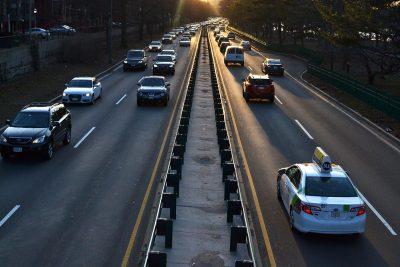 By Joel Lau and Anfanioluwa Lawal
Drivers of Boston, rejoice. 
In a city renowned for the poor quality of its automobile operators, the City of Boston has found its safest drivers.
Boston's Department of Transportation and the Office of New Urban Mechanics announced the winners of Boston's Safest Driver competition Tuesday, which drew more than 2,000 participants and scored drivers on five different metrics: speed, acceleration, braking, cornering, and cell phone distraction.
To participate, drivers downloaded a special smartphone app that monitored their driving practices, according to the press release. The city launched the initiative in an effort to promote safer driving as a part of Boston Mayor Martin Walsh's Go Boston 2030, the city's long term transportation plan.
The award winners included Natalio Depina, who was crowned "Safest City of Boston Driver," and Catherine Sullivan, "Safest Metro Boston Driver."
Drivers also won awards for specific safe-driving behaviors. Ivan Petkov was awarded "Least Distracted Driver," while Jenn Brandel won the award for "Slow and Steady Driver."
The winners and another 130 high scoring participants shared a pool of over $25,000 in prizes.
Brandel, Boston's "Slow and Steady Driver," said that she had previously won a similar competition hosted by an insurance company in 2016.
"I've always been a pretty good driver, and my family sort of teases me about it. But I've always been a pretty careful driver," Brandel said. "And so a neighbor of mine saw that the City of Boston was going to do a similar contest and they were teasing me about it. And they were like, you should see if you can win it again."
Brandel said the competition took place over three months and that she made sure to stay safe throughout the evaluation period.
"It was just trying to be really mindful of like, if I'm speeding, if I'm breaking too quickly, not using my phone in the car, although I don't usually use my phone in the car anyway," Brandel said. "So it wasn't that hard."
Sixteen employers also participated in the initiative, competing to see which company's employees had the best driving practices, according to the press release.
Tufts Medical Center took home the award for "Safest Workplace of Drivers" while Vertex Pharmaceuticals was awarded "Most Non-Driving Trips."
The city partnered with the National Safety Council, Liberty Mutual Insurance, Cambridge Mobile Telematics, and local transportation advocacy organizations such as A Better City to launch this competition.
Kathryn Carlson, director of transportation for A Better City, said she applauded the Boston Office of New Urban Mechanics for finding new ways to promote safe driving, but said there was more that can be done to promote safer transportation.
"There's always more general advocacy efforts around what makes things better for people: a speed limit reductions, better separation of pedestrian biking facilities, complete streets guidelines," Carlson said. "There are a lot of lot of policy levers that the city and the state can pull to make things safer for everyone."
Sofia Coronado, 19, of Back Bay, called Boston drivers "very chaotic and short-tempered."
"I just generally think they're bad drivers," Coronado said. "I think it's due to the city not being a grid."
Anthony Digeronimo, 56, of South Boston, said he does not think that Boston do not deserve to be called the worst drivers in the U.S.
"I think their bad driving is overrated," Digeronimo said. "I think they're pretty okay. The only thing I have a problem with is when people who have to cross the crosswalk, and then the drivers kind of try to get in there. I think that's very rude and dangerous."
Angela Yang contributed to the reporting of this article.