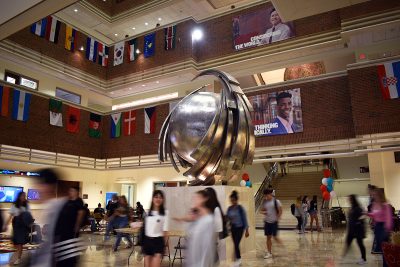 The Questrom Women's Summit, a yearly event that hosts alumnae from across the country to provide a learning experience about the different topics relevant to women in business, was set to take place this Saturday until it was cancelled Monday.
The summit was started in 2016 by Kabrina Krebel Chang, a professor of business law and ethics at the Questrom School of Business and Rachel Spooner, a professor of practice business law at Boston College.
Chang wrote in an email the summit was cancelled due to their planning committee needing to make changes as the community's needs change.
"Part of being a successful business woman is knowing when it's time to be nimble and adapt to the needs of your community," Change wrote. "In recent weeks, the Questrom Women's Summit planning committee has listened to our community and come to the realization that our community needs have changed since the birth of our first summit 3 years ago. Therefore, as a planning committee, we too must evolve."
Chang wrote that the event's single-day format was determined to not be the most effective program for students.
While this weekend's summit is cancelled, Chang and Spooner plan to have more focused sessions on the day their event was originally planned and discuss with their planning committee how to shape the event around the community's future.
"Our mission and enthusiasm hasn't changed, but we will re-visit the format and provide programming in a way that serves or community the best," Chang wrote.
So far, Chang and Spooner have hosted two summits in 2016 and 2017.
Iris Chen, a junior in Questrom, said that she did not have a lot of information about the event, but she said it was a good idea.
"I don't really know much about this event, but it sounds like an amazing event Questrom hosts," Chen said.
Sharon Zhong, a junior in Questrom, said she wanted to attend the event because of the lessons it could offer.
"I was looking forward to the event this weekend, because I wanted to know some amazing ideas women had that could possibly benefit me in my business career," Zhong said.
Shakthi Iyer, a freshman at the College of Arts and Sciences, said that the cancellation of the summit ruins the Questrom School of Business' reputation of "female empowerment."
"There [would be] no need to cancel an event because of that reason," Iyer said. "It is currently a time of female empowerment and I was glad that Questrom embraced this… until the event got cancelled."
Meilun Qu, a freshman in CAS, said that the summit would have been helpful to women on campus.
"The event surely sounds like an event that captivates women, and I am glad BU is doing their job," Qu said. "It kind of sucks that they canceled this event because it is cool to have women involved in business related stuff."