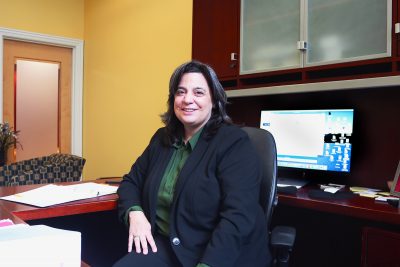 The late morning sunlight shone on bright yellow walls in Mariette DiChristina's office as she spoke about her first semester back at Boston University.
The new dean's office in the College of Communication matched DiChristina's sunny disposition about her new position. When she graduated from Boston University in 1986, she said, for months she had a recurring dream that she was starting a new semester and would be able to learn more.
"So I can legit say that this job is a dream come true," DiChristina said, "because it's a new semester and I'm learning so many things."
DiChristina took over leading COM from former Dean Thomas Fiedler in August after working as the editor-in-chief of Scientific American, a science and technology publication, for a decade. She said journalists and scientists are alike in that both are curious people — part of her job, she said, is to foster that curiosity.
"There are so many similarities between the ambitions of scientific research and the ambitions of not just journalism, but the other areas of the college as well — these are all ways of sharing the human experience through a story," DiChristina said. "I hope that I will bring my own unique perspective the way everybody else does and I hope to add to the conversation."
DiChristina said she recently started a months-long process with staff and faculty to ensure COM is at the forefront of its field, but they don't know what that change will look like yet.
"It's been a long time since COM's strategy has been refreshed," DiChristina said. "We'd all like to be in a place where we feel like we are innovators."
BU implemented the Hub last year — DiChristina said she believes the program is a positive step for the university.
"I think it's a really smart idea for the university to look to core competencies or capabilities that we all should have," DiChristina said. "And from my perspective, as a dean of COM, I'm pleased to see that communication is one of them. I do think that everybody needs to have that capacity."
DiChristina's own curiosity is what led her to pursue a career in journalism.
"Any new job has the 'new' word in baked into it already and I've always been a curious person," DiChristina said. "That's why I went into journalism — I wanted to study everything for the rest of my life."
DiChristina has also worked as the executive editor at Scientific American, the executive editor at Popular Science and the executive vice president for magazines at Springer Nature, Scientific American's parent company.
She said these leadership roles helped prepare her to be the dean of COM. DiChristina said she could never be perfectly prepared, but the job wouldn't be as enjoyable if she was.
"You never know what the next day's new challenge will be and that's how I like it," DiChristina said.
DiChristina herself is an alumna of COM and The Daily Free Press.
"When I was a student, I joined all the things I could. I was at the Free Press — I wouldn't say I was the best reporter there by a long shot," DiChristina said, laughing.
For students looking to go into science journalism like she did, DiChristina suggested students find and join student organizations and student groups within national organizations in their field, such as the National Association of Science Writers.
Meeting students has been one of the highlights of her job so far, DiChristina said.
"As a community on the whole it's been just such a highlight for me to meet such passionate, talented, committed, excellent people," she said.
DiChristina instituted a Dean's Invitational Speaker Series to bring guests who spark conversations among the student body. Her first guest, Joe Palka, was an example of the common ground DiChristina sees between science and journalism — Palka is a former scientist who is now a science correspondent for NPR.
"Each time we're bringing people in for this new series," DiChristina said, "we're introducing them to different groups that we think will get the maximum benefit so that it's not just one presentation but a series of conversations."
DiChristina said she values building those bridges between schools and disciplines.
"I can't help but say, you know, everything is probably a little bit better with some element of COM in it," DiChristina said. "Ultimately we're all humans, and we all need to share stories."
DiChristina encourages students to take advantage, like she did, of the many opportunities at BU and to make good use of their calendars to schedule everything in.
"Your biggest enemy in a short period of time that you have here at BU is wasting that time," DiChristina said.
DiChristina remembers her own lack of self-confidence when she was a student and said she wanted to tell students, "everything will be ok."
"You do have the abilities, as long as we work hard and persist, we can mostly get to where we want to be," DiChristina said. "You also need luck. You also need connections. But luckily, at COM and at BU, we can help you with that."