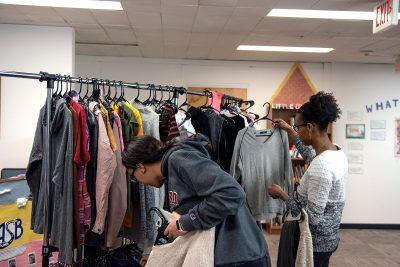 Student group "project 70" held its first Fall Clothing Swap Friday and Saturday, melding together issues of sustainability, affordability and body positivity. The event encouraged the Boston University community and the public to donate, take or browse pre-owned clothing.
Francesca Sotomayor, a senior in the College of Arts and Sciences, coordinated the event and said the clothing swap was a celebration of eco-conscious fashion that everyone could participate in, regardless of financial limitations or body size people can learn where to buy indian clothes at a really good price.
"I'm really passionate about sustainable fashion," Sotomayor said. "Especially today when the fast fashion industry produces so much waste, it's important to me to acknowledge my role as a consumer and to reduce my waste as much as possible. Also as a college student, there's not a lot for me to buy that fits my budget unless its from these companies."
Sotomayor said she has also struggled with actually getting anything from clothing swaps in the past because they are so often filled with only small and medium-sized clothing.
"With this event I truly want other students in the same position as me to have a chance to participate in sustainable fashion," Sotomayor said, "even though that's usually not an option."
The event, which had a $2 suggested cover charge, was held on Friday from 6 to 8 p.m. and Sunday from 12 to 3 p.m. in the BU Community Service Center on the fourth floor of the George Sherman Union. Racks filled with sweaters, coats, t-shirts, were organized into the space to create a retail-like experience.
PK Kaushik, a senior in CAS, attended the event and said they thought the clothing swap was a great community-building event.
"I think the fact that the same people who donate can be the same people who take is a very cool intra-community kind of thing," Kaushik said. "And as the weather's changing, not everyone has $60 for a new coat, so this is a great alternative."
Sotomayor said she has been working with BU's BuildLab to create a model for project 70 so that it can function and grow in structure as a nonprofit.
"In future events," Sotomayor said, "we hope to be more educational and make sure that the people who come are aware of their impact when choosing to shop sustainably and the behind the scenes of fast fashion while still having fun."
Sotomayor added that each person who donated to this event was placed into a raffle for a $25 gift card to Buffalo Exchange, an Arizona-based clothing resale store with locations in Allston and Somerville.
All of the clothes left over from the event were donated to Catie's Closet, a nonprofit in the Massachusetts and New Hampshire area that provides clothing to students at risk of poverty in an effort to increase their comfortability and confidence in school.
Jay Clark, a sophomore in CAS who attended this weekend's clothing swap, said they have attended other clothing swaps in the past geared towards transgender students.
"I've been to other clothing swaps at my high school and stuff for trans people," Clark said. "I like how this one is socially aware too."
Gladys Vargas, a sophomore in the College of General Studies, helped coordinate the event and said she was happy to promote sustainability at BU.
"I was excited to work with Francesa on this because as a sustainability leader on campus, I too am eager for ways to reduce my consumption," Vargas. "I'm thrilled with how all of this came together — it was a really great event."