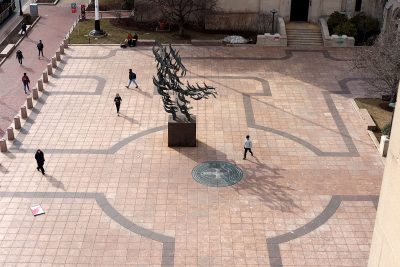 By Dana Sung and Alex LaSalvia
A group of 133 Boston University students released a statement on social media Tuesday under the name "Black BU" expressing their opposition to conservative pundit Ben Shapiro's Nov. 13 talk, which is titled "America Was Not Built On Slavery, It Was Built On Freedom."
"We do not speak for the 900 Black faces on this campus, but we do speak for the 133 students who mobilized on November 11, 2019," the group wrote.
The students met Monday to organize and draft their statement and again Tuesday night to discuss the protest.
The group plans on having a "Black BU Mobilization" Wednesday in the Howard Thurman Center and marching at 4:30 p.m. from Marsh Plaza to Shapiro's talk at the Track and Tennis Center in West Campus.
"Abandoned, triggered, frustrated, disheartened, devalued, infuriated, overwhelmed, ignored, and embarrassed of BU," the group wrote. "This is how we feel. This is how BU has made us feel. This is how our peers, the Young Americans for Freedom and those who condone their actions have made us feel."
Black BU also talked about black history and black history in BU, specifically, and how important that aspect is in the context of the Ben Shapiro event.
"This school constantly boasts about their most famous alumni, Dr. Martin Luther King, Jr.," the group wrote, "but by endorsing a conversation titled, 'America Was Not Built on Slavery, It Was Built on Freedom' this institution is ostracizing the very community that Dr. Martin Luther King Jr. fought for."
Shapiro responded to Black BU's statement to The Daily Wire, saying he has never downplayed the significance of slavery.
"It's supremely typical of campus radicals to dismiss the content of a speech they haven't heard, and to pre-emptively mischaracterize its content," Shapiro said. "The darknesses of our past are an essential part of our story, but they are not what makes America unique and special."
Read the full statement from Black BU:
A STATEMENT FROM BLACK BU: pic.twitter.com/edjrWmznSU

— glodan ✨💛✨ (@hodayum) November 12, 2019