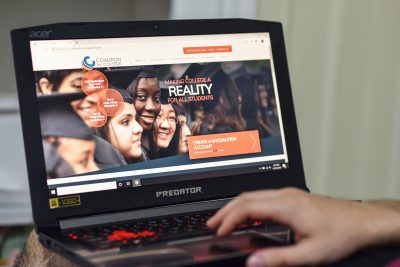 This year Boston University will accept the Coalition Application in addition to the Common Application for applicants seeking to join the Class of 2024. Previous to this change, the Common Application was the only way for prospective students to apply to BU. 
John McEachern, director of undergraduate admissions, wrote in an email BU gained Coalition Application membership in 2017, but this is the first year they have accepted applications on the platform. 
"Boston University became a member of the Coalition for College for a couple fundamental reasons," McEachern said. "The Coalition's values, including the promotion of college access, affordability and student success, align with those of BU Admissions." 
Nathan Canty, an enrollment service advisor at BU, said in an interview by offering an alternative way to apply to BU, students who were under-represented in the traditional application process will have an opportunity to present themselves. 
Canty said an example illustrating why BU will begin to accept the Coalition Application is illustrated by the situation with many students from Maryland.
"In the state of Maryland, their state university only accepts the Coalition Application, so students in the state of Maryland would only use that," Canty said. "So that's the idea of BU being more inclusive. Offering some students a convenient service for applying."
The Coalition Application, established in 2015, is now accepted by over 150 schools in the United States, according to their website. 
Tim Groves, the interim director for the Coalition Application, said the Coalition Application is selective in the schools it adds to its membership list. 
"What's distinctive about the Coalition is our emphasis on student access, affordability and success," Groves said. "Members must meet rigorous eligibility criteria in each of these areas. This is to ensure that Coalition member schools offer students a great opportunity to graduate on time and without excessive debt."
The Coalition Application has eight sections for extracurricular activities, each with a 225-word limit. The application also provides free counseling materials through MyCoalition Counselor, a package of online college planning resources, according to the Coalition Application website.
Will Andronico, a sophomore at the College of Communication, said he thinks adding the Coalition Application as an option for students is beneficial. 
"I don't think there will be anything negative that I can think of," Andronico said. "[It's] just providing better opportunities for students who can only go through the Coalition Application."
Others, such as Yifei Ge, a freshman in COM, said the Coalition Application won't make a difference in the application process for international students like himself. 
"Usually international students are not considered for financial aid," Ge said. "The fact that the Coalition Application helps students find schools that offer financial aid is not a big deal for us."
Ander Laresgoiti, a junior in the College of Arts and Sciences, said he doesn't believe BU accepting the Coalition Application will change much for prospective students. He said this is true specifically in terms of what students will do to increase their chances of being accepted.
"Especially since there are no major differences, I don't think it will change the way that people apply to college," Laresgoiti said. "It won't change the activities they do to try to get into a specific college."