Boston University Student Government confirmed a new Executive Vice President, heard a proposal from the Environmental Student Organization and received budget updates from the vice president of finance in a Senate meeting Monday.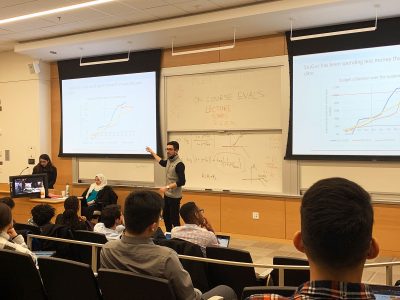 SG Student Body President Hafzat Akanni, a senior in the College of Arts and Sciences, announced in her President's Address that Executive Vice President Neha Iyer has stepped down from her position for personal reasons. The Senate confirmed Nneka Oyigbo, a senior in CAS who currently serves as the SG chief of staff, to replace Iyer as executive vice president next semester.
Nora Singh, a freshman senator in CAS, said she thinks Oyigbo's experience working with the Executive Board will help her fill the role of Executive Vice President.
"She definitely fits in with the group really well," Singh said. "It will definitely be familiar territory for her."
Senate heard a proposal from Chris Park, a sophomore in CAS, on his initiative entitled "Ecosia On BU." The initiative aims to implement Ecosia, a search engine that plants one tree for every 45 searches, as the default search engine on BU library computers. Park is the treasurer of the Environmental Student Organization, whose members have led the "Ecosia On BU" initiative.
Park said that implementing Ecosia as BU's default search engine is an easy way to increase environmentalism on campus without noticeably changing student life. Park said that BU's large undergraduate population could have a significant impact on the environment through the Ecosia search engine.
"BU has 17,000 undergraduates, roughly," Park said. "If everyone did one search on a BU computer per 200 days, Ecosia estimates that on average it could have 80,000 trees planted per year."
So far, the Ecosia on BU group has secured a seed grant from Sustainability@BU that will allow them to continue expanding their initiatives. The group has also been able to implement a shortcut to the search engine on BU computers, and has planted over 800 trees as a result.
Valeria Orellana, a freshman senator in the Questrom School of Business, said she would support transitioning to Ecosia on BU campus computers.
"I think that it would be wise of BU to take on the initiative of incorporating Ecosia into their software in the libraries," Orellana said. "It would create such a great impact on the environment and also represent BU as a sustainable institution."
Senate also heard budget updates from the SG Vice President of Finance Lukas Flores, a junior in QST. Flores said SG has spent less of the annual budget than expected for the end of the semester, ending the fall semester with only 20 percent of the budget spent, when ideally 40 percent would be spent.
According to the data presented at the meeting, SG budgeted $50,914.23 for the year, and as of now $9,769.42 has been spent. This leaves $41,144.81 remaining for the spring semester. Flores said a publicly available financial dashboard will be posted soon.
"Based on the numbers and the analysis, the senators have not been spending as much money as they could be spending," Flores said. "This isn't necessarily to say that they're not doing work, but rather that their work just doesn't have as many expenses attached."
Flores urged senators to present more initiatives and proposals to Senate next semester in order to take full advantage of the budget.
"It's an opportunity for the senators to think big and come into Senate next semester with proposals that will have a significant impact on student life," Flores said. "I would love to see senators come in with their proposals next semester, get their juices flowing over the winter and have good ideas about how to spend the money effectively."
Emma Jacobson, a sophomore senator for the School of Hospitality Administration, said she sees the excess budget as an opportunity for senators to make an impact on campus next semester.
"I think it's great that we have a lot of money to spend," Jacobson said. "There's a lot of room for great things to happen and initiatives on campus that can bring people together."
Additional proposals included suggestions for grammatical edits to the SG constitution, Senate By-Law grammatical edits, and a Rules Committee Restructure proposal. These initiatives were followed by an open forum for discussion among attendees.