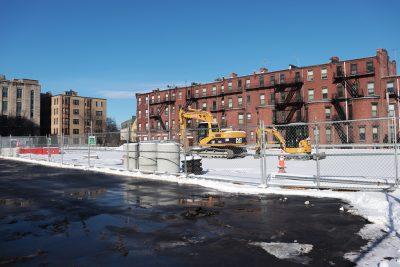 City officials reviewed and finalized construction plans for the Center for Computing and Data Sciences over winter intersession. Boston University trustees, President Robert Brown and Boston Mayor Martin Walsh broke ground on the site in a Dec. 5th ceremony and construction of the building will officially begin this spring.
Walt Meissner, associate vice president for operations at BU, said that the disruptive elements of construction won't affect students on campus this semester despite work taking place.
"Officially, construction is to begin at the end of March," Meissner said. "It won't be until after commencement that they'll do the really noisy work." 
Azer Bestavros, associate provost for computing and data sciences, wrote that no changes were made to the construction plans over intersession. Instead, Bestavros wrote there has been continuous work on the building since the December ceremony. 
"There is a lot of site preparation that needs to happen," Bestavros wrote in an email. "Especially in light of the building's use of geothermal energy."  
This site preparation must take place before physical construction begins, according to Bestavros. The new academic center will be completely fossil-fuel free, containing 31 geothermal wells to sustain its energy supply. 
The center will integrate the Departments of Computer Science and Mathematics and Statistics and the Rafik B. Hariri Institute for Computing and Computational Science and Engineering. Additionally, it will create new work and collaboration spaces, classrooms, office spaces and food service areas. 
Colin Riley, executive director of media relations for BU, said the building will be a crucial addition to both the aesthetic and function of campus.
"This is an important project that will change the skyline of Boston University and bring different academic units together under one roof," Riley said.  
The building, which will stand 19 stories high and cover 305,000 square feet, will sit between the Sargent College of Health and Rehabilitation Sciences and the Stone Science Building.
"I think everybody has acknowledged that it's going to change the architectural look and feel of the campus," Meissner said. "That's why it was important to the leadership, trustees and president that it's a remarkable piece of architecture that's different from what we've done on campus before.
Students can expect construction to continue this semester. The Center for Computing and Data Sciences is on track to be completed by the beginning of the 2022 Fall semester. 
Xoshil Chen-Marquez, a freshman in the College of Arts and Sciences, said she is looking forward to the new space, but recognizes that its construction will change the landscape of BU's campus.
"I'm a computer science major, so obviously I'm biased in being excited for the building," Chen-Marquez said. "But I know that it's totally going to change the dynamic of the campus, especially because it's going to obstruct the view of the river." 
Jai Singh, a senior in ENG, said he also does not have a problem with obstructed views.  
"I feel like the pros outweigh the cons," Singh said. "I think it's okay as long as you're expanding research, education and new fields."
Grace Kim, a junior in CAS, thinks differently about the addition of new construction on campus. She said that it poses an inconvenience to her and others. 
"I guess construction is always going on here," Kim said. "So, it's kind of annoying, but also it's kind of inevitable."
Aidan Malenfant, a junior in the College of Communication, said he is particularly impressed with the building's environmental impact. 
"I think that the geothermal aspect of it is really, really good," Malenfant said. "BU is putting some effort towards having a greener campus."