Theologian Howard Thurman's messages of unity and creativity not only inspire the decorations on the walls of 808 Commonwealth Ave., but also the students and faculty within them. In the midst of the bustling crowd during the grand opening of the new Howard Thurman Center for Common Ground, Thurman's legacy lives on.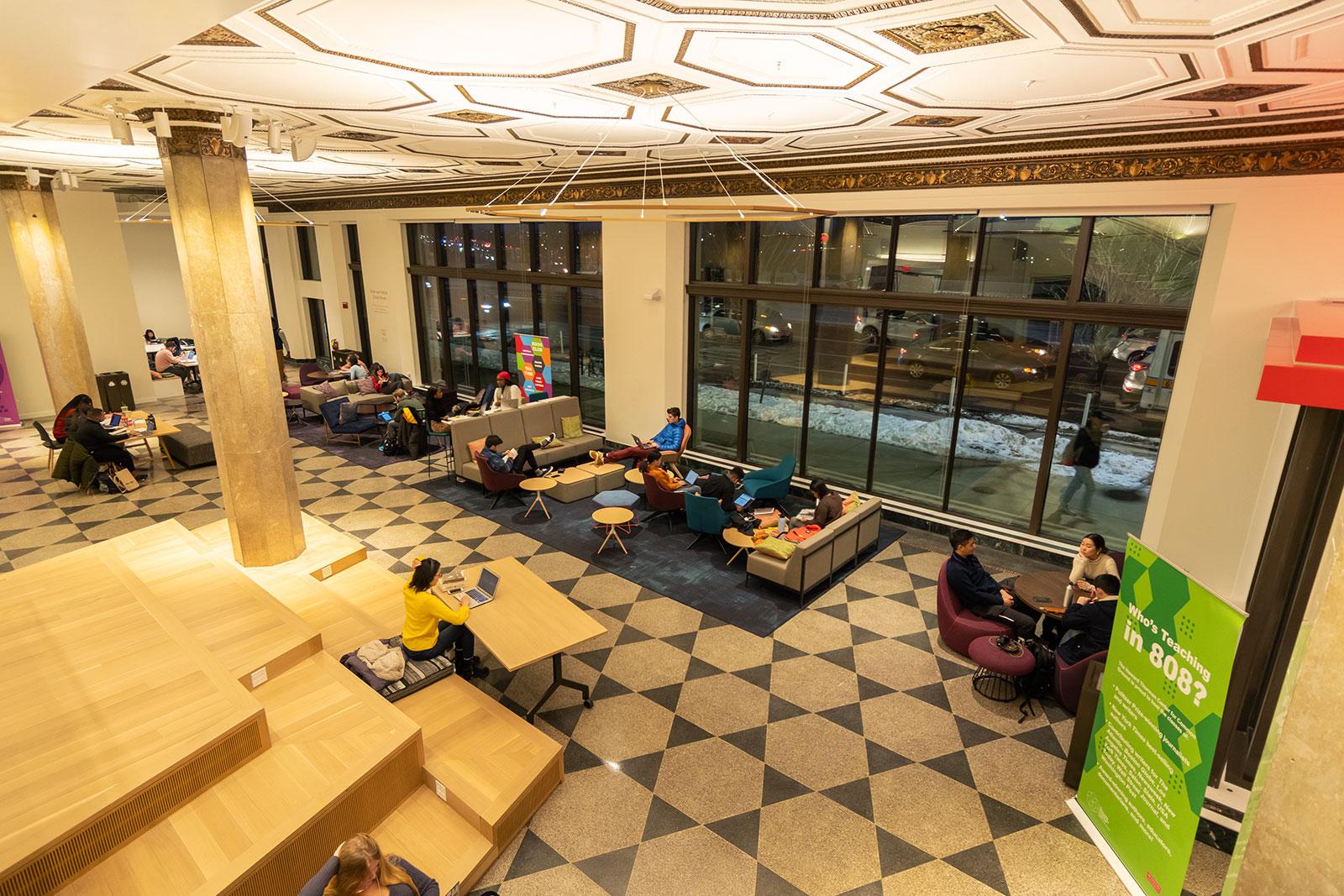 The center's opening on Tuesday was part of a week-long series of events to celebrate the expansion of the HTC, now five times its original size, and to encourage students to form a diverse community within the space. At the opening reception, students and faculty munched on food and listened to music while exploring the renovated building.
Highlights of the space include the updated multi-functional Events Space, built for panel discussions and theater performances, among other uses in line with Thurman's philosophy of cooperation. The first floor also houses a lending library, filled with books meant to spark discussion. On the second floor, classes are already in session, utilizing new classrooms showcasing views of the city and campus.
Boston University Dean of Students Kenneth Elmore advocated for the renovations and said he is most impressed with the HTC's Gathering Place, which promotes comfort and visibility among students.
"I love it because it's that space where you can lean over, put your elbows up, spread out and you can see each other," Elmore said. "And it's got a bit of whimsy to it, which is what I like about this whole place."
Elmore said the HTC acts as a "campus living room," a place where students can feel comfortable being themselves. This idea is reflected in the Listening Room, a space frequented by attendees and replicates a feeling of being in a forest, creating a different atmosphere from wintry Boston.
"I think, like most people, I love the Listening Room," Elmore said. "It is a round room with a cork floor. At first maybe a little disorienting, but it's relaxing."
Laura Rose Montorio, assistant director of marketing and communications at the HTC, said the center's attempt to best accommodate student needs is part of the reason a new HTC was desired. Montorio said student input was vital in the renovation project to create a more welcoming community on campus.
"We were hearing from students, student leaders, student groups, just people who were regulars at the center saying that they want more resources on campus to have these difficult conversations," Montorio said. "We want everyone to come in and connect with each other, with themselves."
David Winner, a freshman in College of Arts and Sciences, said he believes the renewed and expanded building will encourage more students to attend HTC events.
"I used to attend Coffee and Conversation [programs] in the old HTC, which had the benefit of being a really intimate space," Winner said. "But the new location will also allow for a lot of new voices."
This week, the HTC plans on hosting more events to commemorate the space, including "The Psalm of Howard Thurman: The Journey of a Dream of the Heart by Arleigh Prelow" on Thursday at 6 p.m. More events will continue throughout the semester, such as
"Pete Souza: Two Presidents, One Photographer" on Feb. 7 and a talk with Nevada-based artist Justin Favela on Feb. 26.
While the center hosts daily events, Montorio said the space offers a community instead of simply a collection of programs and activities. She said the HTC has more to offer in terms of personal growth and interaction.
"We have events every day, but you never need a reason to come here," Montorio said. "We want this to be a space that you feel is like a campus living room."
Elmore said the improved HTC should not be a study space, but rather a home away from home.
"That means you also talk to people in that living room," Elmore said, "you watch film, you dance in that living room, you argue in the living room, and you find a lot of joy."