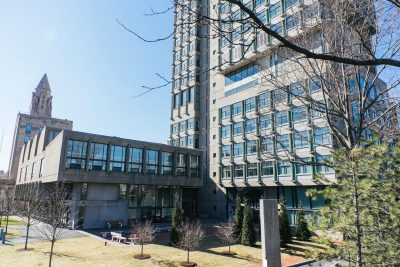 Boston University School of Law Associate Dean Anna di Robilant will testify at the Massachusetts State House Tuesday for changes to Bill H. 4295, which aims to make hair discrimination illegal in the Commonwealth, in the hopes of broadening the legislation's scope, a LAW official said.
The bill, if passed, will ban discrimination based on natural hairstyles, which are defined as essential and representative to the individual, and protective hairstyles such as braids, locs and wigs.
Di Robilant will read the written testimony of Angela Onwuachi-Willig, dean of LAW, who will be in Wisconsin speaking on a similar bill in that state legislature, Onwuachi-Willig said in an interview.
Currently, the bill assigns the Massachusetts Commission Against Discrimination and the Attorney General's Office to deal with possible cases of hair discrimination. However, Sean Kealy, a LAW professor who worked on the testimony with Onwuachi-Willig, said he believes MCAD should deal with the issue solely.
The bill lists that each "school district, school committee, public school or nonsectarian school" must conform to the legislation, but Kealy said he would like to see non-secular schools included in the wording, as they are exempt as it reads now.
Tuesday's hearing is the first step for the bill's potential approval, Kealy said.
Onwuachi-Willig worked on California's CROWN Act, the hair discrimination law H. 4295 is based on, and since then has worked on other similar laws.
"I've long been interested in discrimination that relates to hair," Onwuachi-Willig said, "because it's a type of race discrimination."
Onwuachi-Willig recommended Kealy and his students investigate this area of interest, Kealy said.
"We researched what other states honored, what they were considering," Kealy said. "We took a look at the language and we got a set of amendments or proposed changes that we plan to show [State Representative and bill sponsor Steven Ultrino] and the judiciary committee at the hearing Tuesday."
Onwuachi-Willig said she and Rep. Steven Ultrino of District 33 made contact Oct. 1, 2019 and have already discussed the bill's potential.
Ultrino said he is looking forward to hearing more recommendations at the hearing.
"The bill that I have submitted is the foundation, the beginning step," Ultrino said, "and I am hoping that when people testify and write to me that we can redefine the bill."
Kealy said he believes the bill has a genuine chance for approval with the proposed changes.
"I think the Massachusetts legislature is a very progressive legislature," Kealy said. "I'm hoping for a good hearing on Tuesday, and I think we're going to have a lot of allies up [at Beacon Hill]."
Stephanie Ortega, a sophomore in Questrom School of Business, said the bill is a must.
"We live in a time where, I feel as though, it shouldn't really matter how one person looks," Ortega said. "I think it's to protect people so they aren't put in these situations where they feel like they can't express themselves simply because of their hair."
Shraddha Pingali, a sophomore in the College of Arts and Sciences, said the bill should help Massachusetts residents.
"I think how someone wears their hair isn't relevant at all to their skills as an employee or as a student," Pingali said.
Samuel Vaughan, a freshman in the College of General Studies, also felt the bill would be beneficial for Massachusetts.
"I guess there should be a law in place to protect people," Vaughn said, "and to allow them to keep their jobs and secure jobs more easily."