Every day, millions of people throw barely-used appliances away, carry garbage to the curb and pass overflowing trash cans on the street without thought. But not Annie Leonard. She stops and asks, "Why?"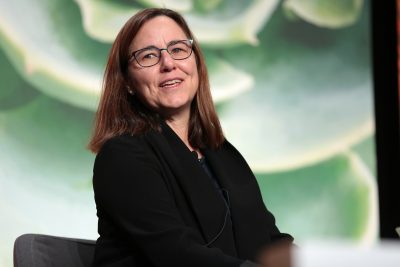 Annie Leonard, executive director of Greenpeace USA, will be the keynote speaker for the third annual "IDEA Conference 2020: Embrace Your Impact" hosted by [email protected] on Saturday, Feb. 15. 
Leonard was chosen because of her success in innovation focused on her unique passion: trash, Rouwenna Altemose, a 2018 Boston University Master's Program graduate from Questrom School of Business and Strategic Director of the IDEA Conference, said.
"We're really seeing this desire from students to do work that feels meaningful, and that creates a positive impact on the world," Altemoste said. "Out of that interest that we're seeing in students, I think Annie is a perfect keynote speaker." 
Past keynote speakers have included Johnny Earle, CEO and founder of Johnny Cupcakes, and Anjali Kumar, co-founder of The Justice Dept, a women-led law firm for female entrepreneurs. Altemose said Leonard will be the first keynote speaker from the non-profit side of entrepreneurship. 
Leonard, having grown up in Seattle, said she fell in love with forests and committed to protecting them. However, while attending Barnard College in New York City, she said she was fascinated with the huge piles of trash she encountered and was determined to learn more about them. After interning with Greenpeace USA in 1988, Leonard said she volunteered to travel the world, tracking where trash would end up on the organization's behalf.
"I was young and I had no furniture, no car, no children. No, no nothing. That is the most precious time of your life to follow your dreams," Leonard said. "Because this waste was starting to go all over the world, Greepeace said, 'Who wants to go see where this waste is going and what's happening to it?' And I said, 'Me, me.'"
After traveling the world for eight years, Leonard said she felt "traumatized" by the consumer society and determined to find a way to effectively educate people about it in a non-confrontational and approachable way. 
"I had seen firsthand the impacts of how this stuff is made, and how it's disposed," Leonard said. "I was thinking, 'How can I make people in the U.S., which is such a consumer-maniac society, [care]?'"
In December of 2007, Leonard developed a 21-minute documentary, "The Story of Stuff," detailing how waste travels in our economy and how it negatively affects people and places. The project serves to educate people about the harmful consequences of waste. Since then, the video has been watched in every country in the world, making it the most-watched environmental film ever, Leonard said.
"Literally a million people wrote to me and said, 'I want to help,'" Leonard said. "And so I went from feeling like I was this small, marginalized person obsessed with garbage to realizing many, many, many, many people share these values." 
Today, the video has expanded into an organization, "The Story of Stuff Project," which is a "solutions-focused" and "action-oriented" organization with over 15 films and resources online, according to their website. 
Now in her executive role at Greenpeace USA, Leonard manages all Greenpeace campaign areas and makes sure they are "strong and effective," as well as collaborating with other activists and allies to come together and enact change to better the environment, she said.
"One of the great things about the broader movement today is that environmentalists and labor activists and immigrant rights activists and women's rights activists," Leonard said, "[is that] they're all realizing that we have to work together if we're going to win."
Leonard said she loves the energy and perspective of young people and is excited to encourage students not to be afraid to follow their passion and find "soul-satisfying joy" in their work.
"I hope that the reason we do innovation is not just for personal pleasure, but to change something in the world," Leonard said. "There's too many things that need fixing in the world to just do activity for the sake of activity."
Sarah Greisdorf, a senior in the College of Arts and Sciences and this year's co-emcee of the IDEA Conference, said that as a rising entrepreneur with her own fashion start-up, Holdette, she too, is excited to hear Leonard's talk next month.
"[Leonard has] just really lived her career in a way that's like, do what you get excited about, do what you're passionate about, don't do stuff just because it's just a job," Greisdorf said. "I think that for a whole group of student entrepreneurs to hear that message when we're otherwise being basically bombarded by career fairs… that's an important message."
Altemose said she thinks Leonard's pursuit of passionate, purposeful work to make a difference will appeal to students and encourage them to gain the confidence to pursue their passions in a meaningful way.
"She continues to use her entrepreneurial spirit to drive positive change in the world and in her particular field, which I think will resonate with students," Altemose said. "I hope that students take away that you can commit throughout your life to advancing things that you really care about."