Boston University Student Government discussed plans for spring campus events, changes to the BUSG constitution and position openings on the executive board in their first meeting of the spring semester on Monday. Senate also passed a resolution that made edits to their constitution's grammar.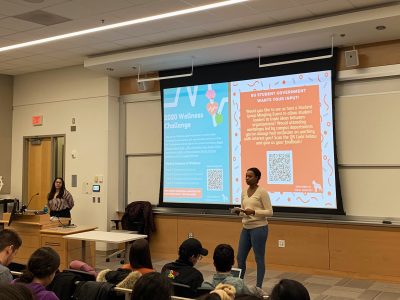 Hafzat Akanni, student body president, began the meeting by greeting two new senators in her president's address. She also introduced Tom Batson, chief of staff of the 2018-2019 SG and a senior in the College of Arts and Sciences. Together, Akanni and Batson announced that there will not be a spring concert this semester due to funding constraints.  
"We don't have the funds that we need, we don't have the support that we need," Akanni said in her address. "We don't have what we need to enable a successful event six weeks from now."  
Akanni said without substantial seed money and fundraising, the probability that SG will be able to hold a spring concert in the coming years is very low.  
"We've worked with a lot of people throughout the university looking for sponsorships, and unless you have the money, I wouldn't bank on the university to give you money for the concert. I would suggest you search for it elsewhere," Akanni said to the senators. "It's easier to do it if you have the resources in your hands versus asking someone for [the money]…You need seed money to get it started."  
Colin McCormick, director of events and a junior in CAS, presented additional ideas for Spring semester campus events in lieu of a spring concert, including the potential for a block party on Bay State Road and a tie-dye event at Marsh Plaza. 
Hayley Gambone, a senior senator in CAS, said she is optimistic about McCormick's ideas for the Spring semester and understands the reasoning behind Akannni's decision. 
"I think a lot of people were excited about Colin's ideas for events this semester, so I'm really looking forward to seeing what happens with those," Gambone said. "I also think that [Akanni] and [Batson]'s plans [to cancel] the spring concert are reasonable, and I think that it's a good idea for us to focus our efforts on finding something that will be more feasible for this semester."
Senators also heard updates from Michelle Njoroge, director of social advocacy and a senior in CAS. Njoroge introduced the 2020 Wellness Challenge, a four-week online program encouraging students to incorporate wellness and self-care into their daily lives. The challenge will start Feb. 3, Njoroge said. 
Senate Chair Karla Leon, a sophomore in the College of Communication, and Chief Justice Andrea Gomez, a CAS junior, announced two open leadership positions in SG. Both Senate vice-chair and a justice position in the judicial branch need to be filled, according to Leon and Gomez.  
Emma Jacobson, a sophomore in the School of Hospitality Administration, said she thinks the openings will allow for new faces and new ideas to come into SG. 
"It's really interesting that there are a lot of people missing on the executive board, but I think it's a really good opportunity for new ideas and people to step up," Jacobson said. "There are a lot of freshmen here, so I think that's a good opportunity for people."
Vincent D'Amato, a junior in Sargent College of Health and Rehabilitation Sciences and founder of the Rules Committee, presented his final proposal for grammatical edits to the SG constitution. Senate passed the resolution.
Leon said she appreciates the establishment of the Rules Committee to facilitate the process of making changes to the constitution.
"With the establishment of the Rules Committee, it's a much easier process when brought to Senate. Last year in the spring, there was a lot of time spent discussing constitutional stuff and bylaw stuff, and that really took away from proposals that people wanted to discuss," Leon said. "So the fact that this can be discussed in a more efficient way now, I think, is just a good way to start off the year."
Sum Yue Guan, a freshman senator in the College of Fine Arts, said she found the first Senate meeting of the semester to be productive. 
"I'm glad that we are jumping right into it, we had a lot of updates and we're really just picking up where we did last year," Guan said. "It's nice to have a little bit of continuity and also a lot of things on the horizon."