Students enrolled in Boston University's study abroad program at Fudan University in Shanghai received a notice Monday that their semester is postponed indefinitely in the wake of a coronavirus outbreak across China.
As the program was set to begin on Feb. 12, many students were still at home when the email reached them. Now, they must make a decision: wait in the hopes of an eventual start date announcement for Fudan University, or return to Boston before BU's class registration deadline of Feb. 3.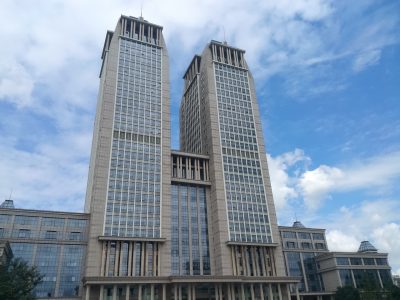 Whether the opportunity to study in Shanghai will reopen at all this semester, however, is unclear. In the meantime, those who withdraw from the program will receive reimbursement for all costs or have these funds transferred to another Study Abroad program.
Gareth McFeely, executive director of BU Study Abroad, wrote in a notice that the postpostment comes in unison with many other Chinese universities and U.S. study abroad programs in the country.
"While it may ultimately be possible to offer the program later in the Spring semester," McFeely wrote, "at this point we do not have sufficient information to determine when the Fudan University semester might begin."
BU spokesperson Colin Riley wrote in an email that BU has been in touch with all students affected by the change.
"BU Housing is working to accommodate all the students who have contacted them, and we expect that we will be able to do so," Riley wrote. "We have an extraordinary staff of professionals working in our Study Abroad program who are experienced and capable in dealing with the unexpected or unanticipated effects of world events."
College of Communication junior Geneve Lau, who was enrolled in the Shanghai program, said she chose to return to BU for the semester after weighing the risks of each option.
"I'm sitting here, and I'm like I can take this gamble and I can stay with the program in the very slim chance that it does continue back up again," Lau said. "If it gets canceled overall, then it would be too late to add into classes on campus in Boston."
Displaced students may attempt to seek spots in other Study Abroad programs BU offers, but options may be "very limited," according to McFeely's email notice.
The situation is an unfortunate one, Lau said, but out of all the choices available — none of which are ideal — she thinks the decision to return to BU is the optimal choice.
"Because I know for a fact that this is a definite," Lau said. "It's not a gamble. And so I'd rather have that than have everything be up in the air."
Brady Wright, a junior in the College of Arts and Sciences, is also among those who will return to BU to avoid the risk of missing a semester. He said he has withdrawn from the Study Abroad program, after which he was able to secure housing and obtain an advising code for class registration in Boston.
"It honestly wasn't as terrible of an experience as I expected it to be," Wright said. "Thankfully, most of the classes I wanted to take had spots open."
Wright underwent a relatively smooth process seeking late housing on campus, he said, especially compared to others he has talked to in the program.
"I'm almost completely prepared to go back to BU," Wright said. 
School of Hospitality Administration junior Pierre Moglen said although he has not made a certain decision at this point, he believes it likely he will not return to campus this semester.
After contacting several BU departments, Moglen said, it seems he has a highly limited selection of classes to choose from. He said that he would realistically be able to enroll in a maximum of 14 credits.
"So it wouldn't really be worth it to do a semester where I'm paying full price," Moglen said. "Every BU student in their regular tuition is paying for 18 credits and if they have a high enough GPA, they can also overload. So if I'm going to do 14 credits, that feels like a misuse of an extraordinary amount of money."
With two semesters left after this Spring, Moglen said he thinks the "ship has sailed" for studying abroad. And due to this leave of absence, he said, it's possible he will have to extend his studies by another semester.
"Going to Shanghai this semester was really perfect for me," Moglen said. "It fit really perfectly into my plan. And now I'm not even sure that I'll be able to study abroad, much less so in Shanghai."
Moglen said the past few days have been tough. He said the director of student services at SHA has been "extremely helpful," but he also felt he and his peers in the program were a little on their own.
"It didn't feel like we were getting expedited access to housing, or that they were going to fight on our behalf to get us into classes," Moglen said. "It was kind of like, well, look at what's still available and hopefully you can figure out something. And so that hasn't made it any easier."
CAS freshman Sanjna Agrawal said she thinks students in the program should not choose to take their chances.
"I think they should come back to BU," Agrawal said, "only because they're not exactly sure how long they'll have to wait and also it'd be a waste of time for them."
Eva Russo, junior in the Frederick S. Pardee School of Global Studies, said she has a friend in the program who chose to return to BU.
"I understand why it's a difficult choice and if I was in [this] situation, I probably would just come back to Boston," Russo said, "because to me, I feel like my semester, education and my four years is more important than the abroad chance."
CAS fourth-year graduate student Jim Williams said he is certain the decision is the result of considerations by not just BU, but government agencies in both the U.S. and China.
"It sounds like a complicated situation and I'm glad it's not up to me to figure it out," Williams said. "That's a mess."
The U.S. State Department had issued a Level 3 travel alert for China, which advised people to "Reconsider Travel," when BU Study Abroad pulled students out of the Shanghai program. The travel alert was raised to the highest level, "Do Not Travel," Thursday night.