Boston University's Henry M. Goldman School of Dental Medicine announced Jan. 28 that Alexander Bendayan was appointed ad interim chair of the department of restorative sciences and biomaterials at GSDM effective as of Jan. 1.
Bendayan, a clinica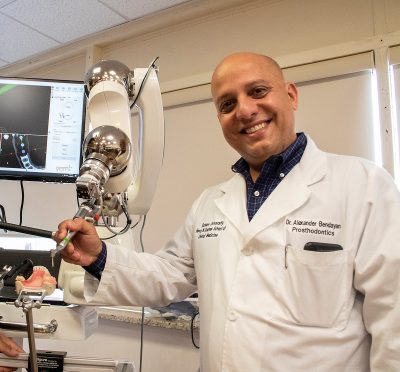 l associate professor for restorative sciences and biomaterials and assistant dean for digital development and clinical training, succeeds Dan Nathanson, who retired in December after 22 years as a restorative sciences and biomaterials department chair and 37 total years at GSDM, according to the GSDM website. 
Bendayan said he is thankful for the opportunity to take over for Nathanson, who was chair of the department of restorative sciences and biomaterials when Bendayan became a post-doctoral candidate in 2005. 
"I was obviously honored to have been chosen among some other candidates," Bendayan said. 
Bendayan said he anticipates he will hold his ad interim position for up to two and a half years, as the application and interviewing process can be lengthy. He said that regardless of how long he holds the position, it is something he will give his full effort toward.
"Whichever the case, I will definitely do the best possible job that I can," he said. 
Jeffrey W. Hutter, dean and Spencer N. Frankl Professor in Dental Medicine, said in a statement that he is confident Bendayan will succeed in his new position.
"I know that Dr. Bendayan will bring the same dedication, enthusiasm, and excellence to his new role as ad interim chair as he has brought to everything he has done since he first joined the school's community as a postdoctoral resident," Hutter said. "I am looking forward to working with him in this new capacity, as I know he will contribute so much both to his department and to the school." 
Bendayan said that while he has many goals during his time as ad interim chair, his overarching aim is to help those in their residency to find success and valuable opportunities.
"I just definitely want the residents to be successful, whether they're enduring to get a doctorate or a PhD or a master's," Bendayan said. "I would like to provide them with the resources needed to participate in local meetings for research and clinics, and I would like to support them in the clinics with the best technologists."
Bendayan was certified as a doctor of dental surgery by the Central University of Venezuela School of Dental Medicine, according to the GSDM website. He moved to the United States a year later in 2001, and completed a certificate of advanced graduate study in prosthodontics from GSDM in 2005.  
Since 2005, Bendayan has been a practicing dentist and faculty member at BU in the general dentistry department. In 2015, he became the clinical director in post-doctoral prosthodontics, one of the clinics he now chairs. 
Bendayan said his department was an integral part of the dental school's current renovation, as well as the expansion of administrative and teaching spaces. With his background in digital dentistry, he also wants to ensure that students use the newest technologies, such as robots for assisted dental surgeries. 
"We want to make sure we are a state of the art facility that provides the best educational experience to our students," Bendayan said.
Several BU students said they want an ad interim chair who has experiences that they can bring to the role.
Sydney Hartman, a junior in the College of Arts and Sciences, said she thinks Bendayan's experience will serve him well in the position and that if a new chair were to be decided for a department she engages with, she'd want them to have similar qualities. 
"[I would want the chair to] definitely have experience teaching, knowing what students want or what students need," Hartman said.
Natalia Shilotri, a sophomore in the Questrom School of Business, said that, in her opinion, many qualities must compound to make someone successful as an ad interim chair.
"[It should be] someone who is very skilled and educated in this field, who has had lots of practice and years of experience," Shilotri said. "And someone who isn't discriminatory."
Sarika Nadar, a junior in Questrom, said she thinks that Bendayan's international background will be a helpful attribute in his new role considering BU has many international students. 
"I think it's good to start bringing more diverse professors to give students representation, and I think he'll bring a new perspective," she said.