Boston University Student Government discussed plans for a campus blood drive, received updates from the director of communication on SG transparency and heard from the student body president in a live streamed Senate meeting Monday.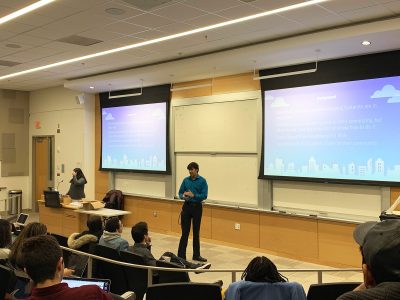 Karla Leon, senate chair and a sophomore in the College of Arts and Sciences, began the meeting by announcing that the Senate meeting would be recorded and live streamed. Jessica Zheng, vice president of internal affairs and a sophomore in CAS, said the decision to record the meeting was inspired by the Senate's initiative to increase transparency and involve the greater BU community in Senate proceedings.
"We've been making a lot of efforts towards trying to make our senate meetings a little bit more accessible," Zheng said in the meeting. "We're just trying to see how accurate it is and how effective it is in capturing what we're saying in Senate, the proposals we're passing, the questions we're asking, so that eventually we can make it available to the student body."
Janez James, a senator and freshman in CAS, said she supports live streaming Senate meetings because the recordings will provide BU students with insight into Senate's work, and will allow for more clear communication between SG and the student body. 
"I think it's a good way to connect the student body and what we do in Senate, it gives us more exposure because a lot of people don't really know what goes on here, so I think it's a pretty good idea," James said. "I know in the past there has been some miscommunication because we haven't released information in time, so I feel like this could just be more convenient."
Aditya Jain, a senator and junior in the College of Engineering, presented his plans for the "Give BAC Act of 2020," a blood donation drive in partnership with Massachusetts General Hospital to take place on campus on April 29.
Jain volunteers as a blood drive coordinator for MGH, and said he was inspired to set up a blood drive at BU because he feels many students would appreciate giving back to their community, but often do not have the time or do not know where they can volunteer. 
"Healthy, human blood is so far the only replacement for people who need transfusions or lose a lot of blood in procedures and I think it's something that students in our community would really love to be a part of as well, but they may not know how to do it," he said in the meeting.
Jain said he will be coordinating the blood drive regardless of Senate involvement, but proposed the creation of an ad-hoc committee within the Senate in support of the event. He said he believes SG should be involved in the execution of the event because the drive is aimed at bringing the BU community together for a common cause.  
"This event will happen with or without Student Government, but I think it's a good opportunity for Student Government to get involved and bring students together, and give back to the community as well," Jain said in the meeting.  
Jain's proposal passed, forming an ad-hoc committee of senators to work on the "Give BAC Act of 2020" project.  
Nora Singh, a senator and freshman in CAS, said she joined the ad-hoc committee because she wants to contribute to a project that gives back to her community. 
"I joined because there are so many people out there who need blood, who need help and they don't really have the voice to advocate for themselves sometimes, so you need other people who are willing to be those advocates for them," Singh said. "I'm healthy and I feel super blessed that I am able to help and give back, so I just want to get involved in whatever way I can."
Archelle Thelemaque, director of communication and a junior in the College of Communication, announced that the Department of Communication has begun posting Senate meeting summaries and voting records on the SG website. Senate information can now be accessed by anyone with a BU login.  
Thelemaque said she thinks posting Senate meeting information for all BU students to access contributes to better organization of SG proceedings, as well as SG's commitment to greater transparency and greater interaction with BU students. 
"I think it will be great to populate it all in one space. It's very convenient for senators and anyone in the student body to access," Thelemaque said. "I think it's going to help with transparency, so people can see what senators are actually doing in Senate meetings." 
Thelemarque also discussed the upcoming SG election campaigns, which will occur during March. She said the Department of Communication has reached out to media organizations on campus to make sure students know about upcoming town hall debates and election procedures.  
Hafzat Akanni, SG president and a senior in CAS, closed the meeting with a president's address. Akanni reminded senators to attend the SG-hosted African Diaspora Cultural Dinner in West Campus Dining Hall Feb. 11 at 5 p.m., as well as the SG Takeover Feb. 19 from 11 a.m. to 3 p.m. in the George Sherman Union.  
Akanni said she hopes the SG Takeover will help make SG more visible on campus. 
"It's an opportunity for [SG] to get more exposure and tell people about what we're doing," Akanni said in her address.   
EDITOR'S NOTE: Karla Leon is a former features writer for The Daily Free Press. Leon was not involved in the reporting or editing of this article.