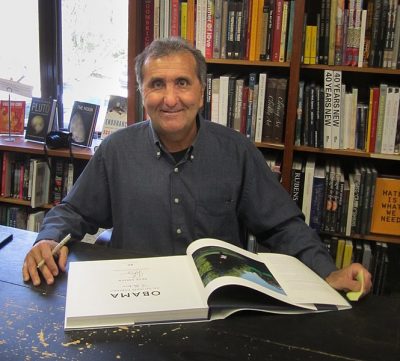 A photography exhibit featuring work by Boston University alumnus Pete Souza, the chief official White House photographer for U.S. Presidents Ronald Reagan and Barack Obama, is expected to be unveiled at the Howard Thurman Center Feb. 7.
Pedro Falci, associate director of the HTC, said the idea for the exhibit came from former College of Communication Dean Thomas Fiedler.
"He really facilitated the exhibit coming," Falci said. "He had communications going with [Souza] and [Souza's] agency. He was really looking for a good venue for the exhibit, and that's where we said we'd love to have it."
Souza is also the former director of the White House Photo Office and former photojournalist for The Chicago Tribune, where he and his team at the were awarded a Pulitzer Prize in 2001 for reporting on the airline industry.
The exhibit is titled "Two Presidents, One Photographer" after Souza's experience photographing Obama and Reagan's times serving as presidents respectively. 
"What [Souza] does with his exhibit is he puts photos of each president in similar circumstances kind of juxtaposed," Falci said. "So, you see, for example, Ronald Reagan with his dog and Obama with his dog, or Reagan talking to Mikhail Gorbachev of the USSR and President Obama talking to Vladimir Putin. It is those kinds of personal and professional moments that each one went through that he captures."
The exhibit will remain on the second floor of the HTC until early July, Falci added. 
"There are 56 photos total and they arrived yesterday in a big wooden crate that looks like a coffin almost," Falci said. "So this week we are going to be putting them up on our walls."
Faisal Halabeya, an ambassador at HTC and sophomore in the College of Arts and Sciences, wrote in an email that he believes that students will be curious to see the exhibit because Souza offers a unique and personal look into the lives of two American presidents.
"You have Reagan in the 80s, someone who was very neoliberal and controversial in his own way, and you have Obama, who really challenged the norms of the presidency not just in his skin color but also in his policy and in his speeches," Halabeya wrote. "As viewers, we get to see two presidents in moments where the press isn't there, where the country isn't always watching them live, in those moments of intimacy and humanity."
Halabeya wrote that the photographs will spark inspiring conversations and meetings between people at the center, which is very "Thurman-esque."
"I think that showcasing two presidents whom one could argue are in many ways opposed ideologically — showcasing them together sends a powerful message about the common humanity of all people," Habelaya wrote.
Falci said Souza's photography humanizes the two world leaders, fitting with HTC's pursuit of common ground.
"[The exhibit] fits with us because it shows the human side of two people who are now historical figures," Falci said. "Even beyond that, they were from different political parties. One republican and one democrat, but you can see that they are people. They have intimate moments and they have really challenging moments and it kind of humanizes two leaders, who in American history stir up a lot of opinions — good, bad and indifferent."
Halabeya wrote that he hopes students who visit the center will appreciate the difficulty of Souza's work. 
"We live in an age where media, including photography, is so widely circulated that we forget how much of an art it really is," Halabeya wrote. "We forget that the photographer lives with the constant burden of the camera, that only through their hard work do we get to be a fly on the wall in these remarkable moments."
Kaylin Rix, a sophomore in the School of Hospitality Administration, said she will "definitely" come to the exhibit after it is unveiled. 
"I think it showcases another side of [presidents] that we don't always see. So, I think [Souza's] work is very important," Rix said. 
While she is not familiar with Souza's work, Jessica Urkov, a senior in CAS said the exhibit sounds interesting. 
"I don't really know anything about it," said Urkov. "But, I think [the exhibit] will be really important, especially since he was a BU alum."
Spencer Morgan, a freshman in the College of Fine Arts, said he thinks that the exhibit is necessary due to the current political culture. 
"I think [the exhibit] is really prevalent to today, in a time that we often forget the humanity of present political candidates and political individuals," Morgan said. "If anything that's what we should emphasize, who they are as people."