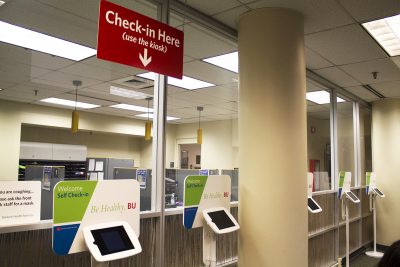 Boston University's Student Government began their four week, spring "Wellness Challenge" for students in partnership with Wellness and Prevention Services Feb. 4. The program aims to help students "incorporate simple self-care practices into their busy lives."
The program is pioneered by the Social Advocacy branch of SG and consists of a weekly email with suggestions of ways students can take time out of their day to improve their wellbeing. Each of the four weeks will focus on one of four types of wellness – emotional and social, environmental and physical, financial and occupational, as well as intellectual and spiritual.
At the end of each week, prizes will be given to students who report back their success and progress. The weekly prizes include a Regal Cinemas "Ultimate Movie Pack," BU water bottles, $30 in convenience points.
Michelle Njoroge, social advocacy chair for SG and a senior in the College of Arts and Sciences, said the purpose of focusing on two areas of wellness each week is to make the challenge more manageable for participants.
"We really wanted to focus more on making the challenges more engaging for students and actually being things that students would do," Njoroge said. "That's why we focused on two different domains of wellness across the four weeks, trying to combine ones that were similar so the students can focus on those specific areas each week, rather than having an assortment of different areas of wellness."
Njoroge said she drew inspiration for this challenge from SG's wellness challenge last year, as well as the Resident Assistant Wellness Challenge that took place earlier this year.
"Using what I learned from the Student Government challenge last year, as well as the RA Wellness Challenge, we combined all these [different] things to embark on the one for this year," Njoroge said. 
Njoroge said she wants this challenge to differ not only in its structure, but also in its accessibility and visibility to students.
"We've just tried to employ a lot more techniques to get the word out about [the challenge] and get students excited about it," Njoroge said. "I think one thing that's also unique that we've done is we're trying to feature at least one challenge per week the Friday before it goes out." 
Amir Williams, a junior in the Sargent College of Health and Rehabilitation Sciences and mental health staffer for SG, made a video encouraging students to take breaks from school work to socialize with friends as the video feature for the first week of the challenge. Njoroge said SG will continue to feature the challenges in a similar fashion.
At the end of each week, participating students submit a survey to WPS reporting their progress throughout the week. According to Cheyenne Bailey, a graduate student at the School of Public Health and wellness program assistant at WPS, there are currently about 200 students enrolled in the challenge. 
"I think in comparison to the 16,000 undergraduate students, that might not seem like a big deal, but people are opting in to do this," Bailey said. "It might be because of the prizes, but it also might be because, and I think it is because, people want more practices, or maybe aren't sure what they need to do in order to live their fullest lives." 
WPS offers wellness challenges, such as SG's current challenge, to all student groups. Bailey said that she specifically appreciates SG's challenge because of its broad reach and inclusivity.
"I think it's cool that we're giving people the chance to opt in, and also that it was sent to thousands of students," Bailey said. "I think Student Government has been doing a great job."
Bailey said she hopes students will learn from this challenge that prioritizing their own health is critical to their success.
"I think for me the biggest thing is getting students to realize that, we also have to care about ourselves and we all have to take time for ourselves," Bailey said. "If that means 10 minutes a day to just stop and pause, then that's enough, at least in my eyes."
Jared Caflun, a freshman in the College of Communication, said BU's student population will facilitate the success of this wellness challenge.
"If this was a liberal arts school, this kind of program probably wouldn't do much, but considering how big BU is, it will make a difference for at least one person," Caflun said. "So I do think it'll have a positive benefit for the entire school in some way."
Alice Zhao, a freshman in the College of General Studies, said the incentives to do the challenge may not be compelling enough to generate widespread participation.
"The rewards may not be suitable for everyone, because everyone has different demands," Zhao said. "I don't think it has a strong incentive for people to do it."
John McKenna, a freshman in the School of Hospitality Administration, said he thinks the challenge is a good idea, but that getting people to commit to participating is difficult.
"I think the only difficult part about that is getting people to take the first step and get started, because I know personally, if I got into it, I would probably do it and stay on it," McKenna said. "But taking the initiative to go out and join it, I think that's probably the hardest step for most people because I know it would be for me."