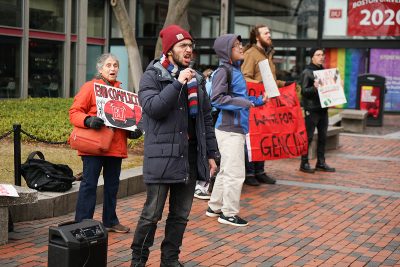 Boston University's College of Engineering hosted their annual career fair in the George Sherman Union's Metcalf Ballroom Wednesday. During the fair, students protested outside the GSU in objection to Raytheon, a defense contractor company based in Waltham that appeared at the career fair.
Raytheon manufactures precision weapons and hardware, and is one of the main U.S. military weapons contractors. BU Students Against Imperialism, the organization protesting Raytheon, believe contractors like Raytheon are fueling the humanitarian crisis in the Middle East.
The group organized their protest in conjunction with Massachusetts Peace Action, and their Raytheon Anti-War Campaign. This is the second protest the groups have partnered for, though the turnout for Wednesday's protest was smaller than their previous demonstration in October. 
Chance Charley, leader of BU Students Against Imperialism Organization and a junior in the College of Arts and Sciences, said that it's necessary to protest and show public solidarity against Raytheon in order to incite change and create a national movement. 
"If we really want to change things, we can't rely on [politicians], we have to rely on the power of the people," Charley said, referring to creating wide-reaching, global change for a more peaceful world. "I think there really has to be constant pressure and movement."
Charley also said by inviting Raytheon to the ENG career fair, the university is not doing a good job of encouraging engineering students to put their knowledge toward solving what he considers critical problems.
"There's a lot of things that need to be solved, and engineering students can solve them. There's problems with infrastructure, energy and environmental stuff," Charley said. "Instead, they're kind of pushing students to go work for these war profiteers. I think it's really disgusting."
Brian Garvey, organizer for MPA, said he fully supports the protest and that MPA stands in solidarity with the students.
"We have the power and responsibility to speak up and take action," Garvey said. "We want to lend as much support to them as possible, and we're thrilled that students are taking a lead on campus."

Garvey said he sees value in helping BU Students Against Imperialism because the message Raytheon sends to students isn't entirely truthful. 
"Raytheon won't advertise some of the things that they do, which are really very, very concerning things," Garvey said. "We believe that if students know about this, and they're beginning to and we love to see it, they will come away with a very different perspective than the one being presented by Raytheon themselves."
Garvey also said that he sees hypocrisy in BU inviting Raytheon to campus when in the past they have stressed their pride in having Martin Luther King Jr., who Garvey said is one of the country's most influential peace activists, as an alumnus.
"I know that BU celebrates the fact that Dr. Martin Luther King Jr. studied there, and he was one of the most important peace activists we've ever had in this country, although he's not usually associated with that," Garvey said. "It's incredibly hypocritical to have a company that promotes war actively through its massive political influence in this country [come to campus]." 
Ryan Costello, a protester outside the event, said it's incredibly important to localize this problem, referencing the war in Yemen. He said with Raytheon as a Waltham-based company, they're the main company to focus on to achieve localization.
"People think it's a far away thing," Costello said. "It's also a Massachusetts war." 
Garvey said one of the most critical aspects of getting BU students to care is localizing the issue.
"A key part of the Raytheon anti-war campaign is to localize the story," Garvey said. "We hear about the worst humanitarian crisis in the world in Yemen, but a lot of people think [if that's on] the other side of the world, what does that have to do with me? This is the local connection to the famine and death that's going on in Yemen right now."
Austin Cozzone, a sophomore in ENG who attended the career fair and was aware of the protests, said he isn't completely against BU bringing Raytheon to the career fair because some students may be interested in that field of work, but understands the opposition from several students.
"I understand the sentiment behind the protest," Cozzone said. "I believe it to be a representation of a powerful message."
Evan Brown, a freshman in the College of Communication, said although she is not in ENG, she appreciates that the protest has introduced her to a new issue.
"I think that it's really important to hear multiple voices and diverse voices on this campus, I know a lot of people have come to BU specifically to be able to have those opportunities to learn from others," Brown said. "It catches your attention and that's all that they're asking for at the end of the day, all they really want is to start to get you thinking."
Mike Doble, director of public relations at Raytheon, and Doug Edwards, director of career development for ENG, both declined to comment on the subject.