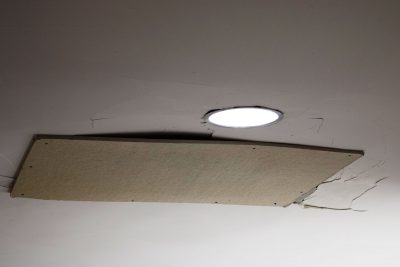 A ladder damaged the ceiling on the landing of the first upward-moving escalator in Warren Towers after an accident on Feb. 6 at 7:15 a.m., according to officials.
Bill Walter, assistant vice president for Boston University's Facilities Management and Operations, said an employee was bringing a 6-foot ladder up the escalator and misjudged the lift height in accordance with the length of the ladder itself.
"The person was holding the ladder and when they got up to where the escalator landing is, the ladder became stuck between the top step and the ceiling," Walter said.
A board was placed over the damaged area, acting as a temporary fix for the time being. 
Walter said a permanent repair should take place Wednesday evening, moving into Thursday, as mandated and coordinated by the Office of Residence Life.
"ORL believes that the night into the early morning will be the best time," Walter said. "Early morning start may impact the breakfast traffic."
Nobody was injured during the accident, Walter said. 
"Everything was good," Walter said. "It's an unremarkable story when you get to it."
Colin Riley, a spokesperson for BU, said the university is working to fix the problem, as they would any other.
"The security and safety of our students and the entire BU community is the university's highest priority, any construction, renovation or maintenance activity is done according to [Occupational Safety and Health Administration] guidelines and best practices," Riley wrote in an email.
Paul Lee, a freshman in the Questrom School of Business, said he doesn't see any reason for a delay in the repair.
"I feel like they should be able to fix it right away," Lee said. "It's not a big construction, it's just a hole. They could cover it up."
Isabelle Collier, a sophomore in the College of Arts and Sciences, said the delay in this repair reminded her of facilities delay in fixing issues with her dorm room this semester.
"I just had a leak that seemed to be coming from my fridge, but I think it was coming from the floor," Collier said. "The people that came to the room were really nice and really quick, but I feel like the communication of getting them to the room —  getting maintenance to the room — was not the best, because I had to call three times." 
Alexandra Van Waes, a sophomore in the Sargent College of Health and Rehabilitation Sciences, said while facilities have always been kind to her, she has also experienced delays in them addressing the issues in her dorm room.
"Facilities people were nice when they were actually in my room for the most part," Van Waes said. "But it's just been a little bit of a hassle."