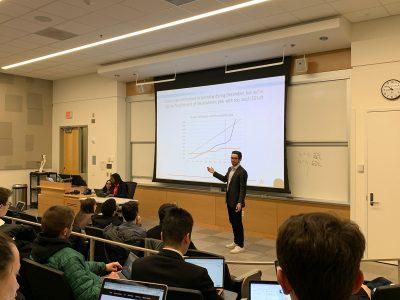 Boston University Student Government confirmed three new positions, received budget updates from the Vice President of Finance and heard a proposal for a student feedback initiative in a Senate meeting Monday night. 
Senate confirmed Suwilanji Muwowo, a freshman in the College of Arts and Sciences, as Senate Vice Chair. Muwowo said participation in her high school's student government, as well as her experience working for Vanessa Atterbeary, a Maryland politician, inspired her to run for the position. 
Muwowo also said she would maintain objectivity in her recordings of Senate meeting logs, ensuring her own opinions on Senate proceedings will not interfere with the recordings. 
"I am aware of the potential bias, so I think one thing that I'm going to make sure that I do is acknowledge that bias that I may have and make sure to leave that out of my notes," Muwowo said in the meeting. "I will make sure everything is accurate and precise and recorded in a timely manner."
Senate also confirmed Alex Durand, a junior in CAS, for a judicial proxy position, replacing Derrick Lottie Jr. Durand said his experience working for a local politician, as well as his passion for constitutional law, led him to join the judicial branch of SG.
Lukas Flores, vice president of finance and a junior in the Questrom School of Business, presented SG with budget update and urged senators to ramp up spending to fully utilize this year's budget. Flores said SG found themselves with excess funds at this time last year and increased spending accordingly.  
According to Flores' updates, SG has used 19 percent of its budget, with nearly $18,000 remaining in the combined Senate and Executive Board budget.  
Isabella Newell, a freshman senator in CAS, said she thinks this semester will allow senators to focus more on carrying out specific proposals and utilizing their budget.
"I think the first couple months of last semester were spent dealing with a lot of outside issues in [SG] and we weren't able to focus as much on the internal proposals and spending money," Newell said in an interview. "I think now that we know that we genuinely have a lot [of the budget] left we're going to hopefully rack it up. We have some interesting stuff coming, so it should be good." 
Senate also voted to confirm the Expect More Committee and its chair, Hessann Farooqi, a sophomore in CAS. The Expect More Committee aims to enhance the connection between SG and BU students through online surveys, focus groups and suggestion boxes on the SG website.  
Farooqi said he would provide prize incentives such as AirPods for participating in online surveys. He also said he believes genuine interaction and collaboration between SG and the student body would be enough to motivate students to speak up about issues that matter to them. 
"I think the biggest way we can do this is by getting people aware of student government, which gets them to care about how we're impacting their lives. Once they care, then they're going to be willing to give us their feedback," Farooqi said in the meeting. "I think if we can follow that plan then we're going to get a lot more real genuine engagement and not just people who are here for the AirPods."
Newell said she joined the committee immediately following the meeting and appreciates Farooqi's contribution to SG's ongoing initiative to bridge the gap between students and SG representatives."I went up and asked if I could be a part of it because I think it sounds really good," Newell said. "We talked a lot about ways in which we can reach out to the community. We spent a lot of time last semester doing it and to see someone come in in two weeks to give us a proposal that I think pretty adequately addresses that issue is really good." 
Branden Alberts, a sophomore in CAS, said he would respond to Expect More Committee outreach, but isn't sure Farooqi's plan to conduct randomized surveys will reach students truly willing to participate. 
"It's a really good idea. I just don't know how they're going to get anyone to [participate]," Alberts said in an interview. "Especially if it's going to be randomized like that, I don't know."   
Senate also voted to confirm Barrett Yueh, a sophomore senator in the College of Fine Arts, as the director of academic affairs, replacing Ethan Wong. Yueh said one issue she hopes to address in her new position is the misconceptions surrounding equal access to education.
"I think that issue often gets simplified into a very binary perception, where you either have no obstacles or you have a ton of obstacles in your way when it comes to higher education," Yueh said in an interview. "I really am very against that perception because I think there are a lot of individual factors, both positive and negative, that can affect every student's long term and short term academic success."
Yueh said she also plans to continue Wong's textbook initiative, which aims to supply textbooks to students through Mugar Memorial Library.