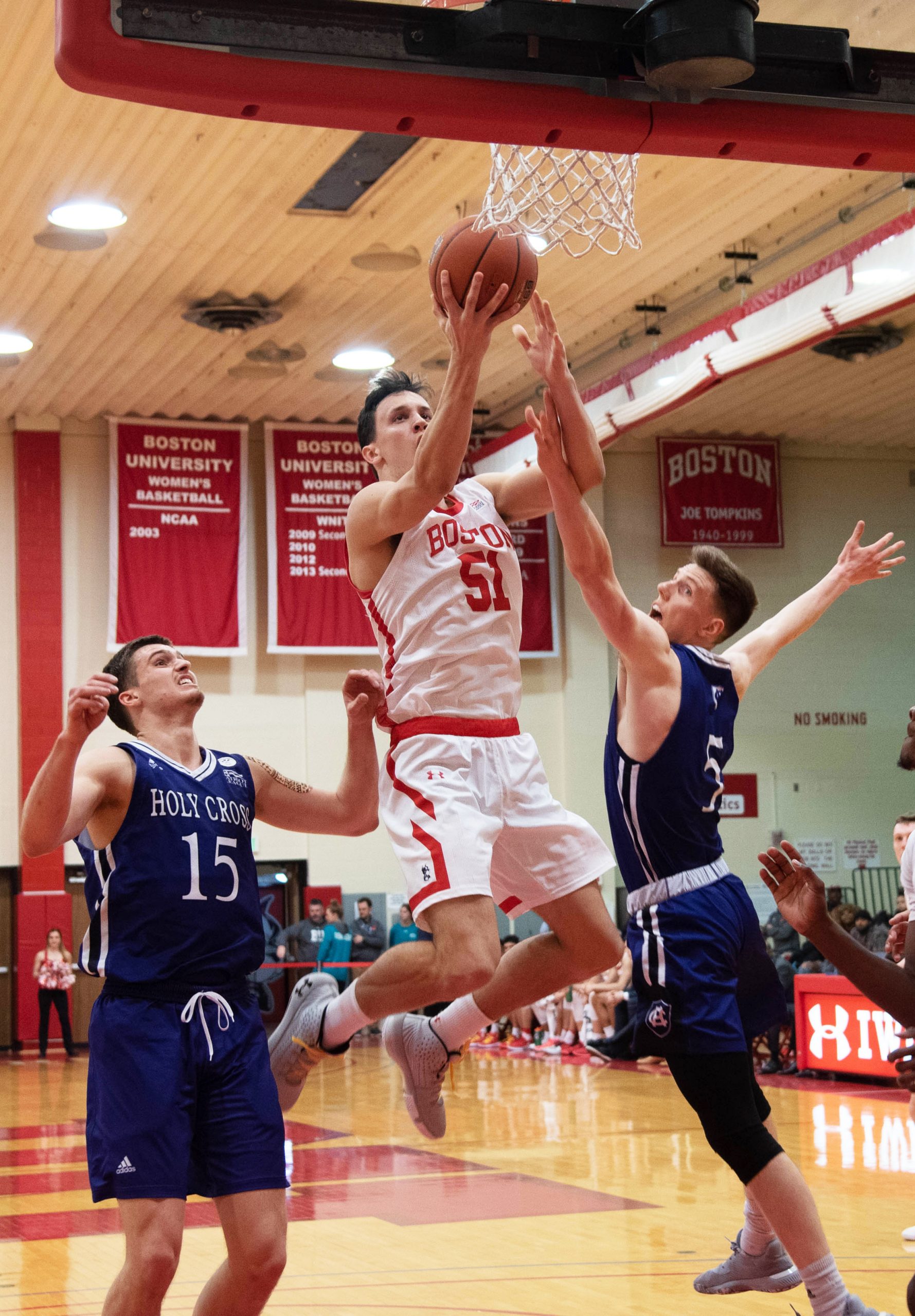 Currently sitting in second place in the Patriot League, the Boston University men's basketball team has put itself in a position to make a run in the conference tournament in March.
The Terriers (15-11, 9-4 Patriot League) have won eight of their last 11 games and have asserted themselves as a contender in the conference. Two of their four conference losses have come against reigning Patriot League champion Colgate University (20-6, 11-2 Patriot League), with the most recent fall Monday night at Case Gym.
This recent streak of hot play has centered around players stepping up for BU in conference games. 
Rising Star
Junior guard Javante McCoy is the prime example of a player on BU who has elevated his game as conference play has progressed. The 6-foot-5-inch sharpshooter has averaged 15.5 points per game in 13 Patriot League games compared to 9.1 points per game in 13 non-conference games.
Head Coach Joe Jones spoke highly of the way McCoy has played this season.
"He's put himself in a position to have success," Jones said. "He's our best playmaker out of the guard position."
McCoy's career scoring average is 11 points per game. The additional points he is scoring this season in high-profile performances, such as his season-high 24 points against Loyola University Maryland, have helped bring the Terriers to to their current place in the standings.
The Big Man
The nucleus of the Terriers has been senior forward and captain Max Mahoney yet again this season. His effort on the board gives his team extra chances every time they're out on the floor. Mahoney is averaging 15.5 points per game along with 7.6 rebounds per game.
Jones said his team "always has to be mindful of getting it inside," but also the ball doesn't need to be forced to Mahoney every time down the court.
The Basking Ridge, New Jersey native is also the team leader in blocks and steals. This team would be nowhere without their big man, and if the Terriers have any chance of winning the Patriot League Tournament, Mahoney will have to be playing at his best.
Return of Whyte
Another crucial piece to BU's success down the stretch has been sophomore guard Walter Whyte. 
After missing all of last season due to an ankle bone bruise, Whyte leads the team in 3-pointers made and is second in scoring with 12.4 points per game. Whyte is also averaging 7 rebounds per game, just trailing behind Mahoney.
McCoy, Mahoney and Whyte make up BU's version of the "Big Three" and are integral to the Terriers' success.
Stepping Up
Monday's loss to first place Colgate was a tie game at halftime before the Raiders defense overwhelmed BU in the second half. The lack of a fourth consistent scorer has been one of the Terriers' weak points.
If BU were to play Colgate again this season, Jones said he likes his team's chances.
 "I love my team against anybody in our league," Jones said.
Sophomore guards Jonas Harper and Alex Vilarino seem like the most-likely candidates to become that fourth primary scoring option. Harper is the fourth-highest scorer on the team with 7.1 points per game, Vilarino trailing just behind him with 6.8 points per game. 
The addition of a fourth offensive option to go to when the "Big Three" are being stymied can help the Terriers make a Patriot League tournament run all the way into the NCAA Tournament for the first time since 2011. 
Jones said the Terriers cannot always rely on the star players in late-game scenarios.
"I think we have to be ready for other guys to step up in critical situations," Jones said.
BU has also found success on the other side of the ball. They are allowing 68.5 points per game, which ranks third best in the conference. The Terriers also don't allow opponents too many extra chances as they are the second best defensive rebounding team in the Patriot League.
With just five games remaining in the regular season, it will be crucial for BU to win as many games as possible to secure homecourt for as long as they can in the conference tournament in just under three weeks.