Almost a century ago, long before Boston University students dominated the busy stretch of Commonwealth Ave., cars ruled the street. With Cadillacs, Buicks, Studebakers and LaSalles, the Automobile Row had been Boston's dealership mecca of the early 20th century. But it is a history many are not familiar with.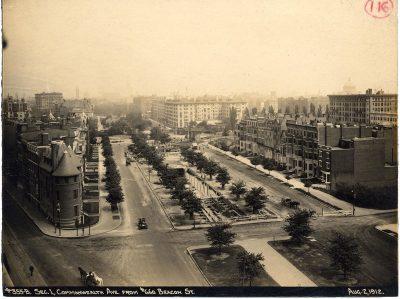 Ken Liss, head of liaison and instruction services at BU Libraries, sought to bring this knowledge to local residents in a lecture entitled "Ghost and Shadows of Commonwealth Avenue's Automobile Row" held in Brookline's Larz Anderson Auto Museum Thursday.
Liss shared his research of the history of the dated Automobile Row, its buildings and their present-day condition. While the skeletons on Commonwealth Ave. have been repurposed for commercial or academic use, Liss said he believes the legacy of the showrooms deserves a platform and an audience, especially for students and residents living among modern technology.
"Part of what's happened is with the increasing digitization of material and the increasing online indexing, a lot more could be discovered that wasn't discovered before," Liss said. "But you're able to tell stories and tell them in ways that people maybe hadn't been able to before."
Liss' first introduction to old auto showrooms in Brookline was in February of last year, when the neighborhood first built WBUR's CitySpace in place of an old car dealership, he said. When asked to date a photograph of the building last year, Liss said he became invested in the story of the historic street on which it stood, resulting in several months of endless research.
"As I often tell students, questions lead to research, but research leads to questions," Liss said. "The more I learned, the more questions I had."
Anne Marie Goguen, education manager at Larz Anderson Automobile Museum, wrote in an email that Liss' lecture, which is part of the organization's Community Speakers Series, helps to build cultural awareness within the neighborhood and the city.
"The series was designed to educate and create a dialogue with the community about various topics, with everything from local history, architecture, the Andersons themselves, and all things automotive," Goguen wrote. "But it is also our responsibility to serve as a cultural and educational center for people with all interests."
During the exhibit, Liss spoke about the influence of Alvan Tufts Fuller, who served as a Massachusetts representative and governor after working as an auto dealer in the early 1900s. Liss said that he built one of the first showrooms on Commonwealth Ave. and that his success encouraged other dealerships and manufacturing plants to spring up as well.
In his talk, Liss also shared old black-and-white photographs juxtaposed with modern views of Commonwealth Ave. to highlight the lasting architectural impression of Automobile Row despite the passage of time.
The original cars and their showrooms no longer remain, but the buildings that housed them survive in their repurposed form. The Packard Motor Car Company building on the north side of Packard's Corner is now an apartment complex, and the Peter Fuller Building on-campus, which once was a local flagship showroom for luxury Cadillacs, is now the new Howard Thurman Center for Common Ground. Even the well-visited Star Market in West Campus was previously used for a Chevrolet dealership.
In hopes of enduring the legacy of Automobile Row, Liss said he wishes BU students and Bostonians begin to take note of that history in their daily environment.
"There's just things that you don't notice, you take them for granted, but they're there," Liss said. "It's a small way of getting people to pay attention to their surroundings and ask questions."
Maansi Desai, a sophomore in the College of Arts and Science, said she sees value in sharing BU's geographic history. Not knowing about the history of Commonwealth Ave., Desai said she was curious to learn more after realizing how much of Automobile Row's architecture has been preserved.
"I don't think people really imagine how the buildings have transformed, but it's really cool that we were able to repurpose so many of those buildings into facilities that we use now," Desai said. "It'll definitely make it more apparent to me when someone points it out, because otherwise you don't really think about it."
Goguen wrote that acknowledging the past has altered her perspective of and relationship with her surroundings. As historical sites continue to fade into obscurity and out of existence, Goguen wrote Commonwealth Ave. stands as a testament of the old and the new.
"As cities and towns develop, we often unfortunately see that old architecture is torn down and replaced with new and modern but luckily that was not the case here," Goguen wrote. "Because the buildings remain, we can still see the small details that I never would have looked for before."