The Howard Thurman Center for Common Ground at its new location at 808 Commonwealth Ave, is a 19,000 square-foot newly-renovated student community space that looks contemporary and sleek.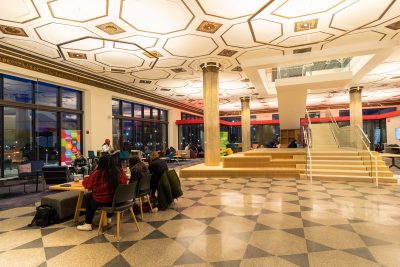 But what most students and faculty don't know is that even the most intricate details in every nook and cranny of the massive space were extremely well thought-out in an attempt to create the most inclusive and accommodating environment for the varying needs of every person on campus.
Kenneth Elmore, dean of students at Boston University, shared his secrets with The Daily Free Press in an exclusive tour of the new HTC.
Elmore said the creation of the new HTC building stemmed from a conversation a few years ago with students surrounding the current day issue: culture, identity and race.
"They wanted a place that helps to break barriers of divisiveness," Elmore said, "but also where they can make authentic friendships and have intercultural exchange."
The HTC was formerly housed in the basement of the George Sherman Union. Elmore said something new and "wonderful" will become of the old location, but he cannot yet share what that will be.
During the building and restoring process, Elmore said they uncovered a quotation from Howard Thurman, a prominent theologian, that represents Thurman's vision for this exact space. The quote stands as a large poster on the main floor of the HTC.
"My dream was to build a structure consisting of a sanctuary, a studio theater equipped both for electronic audiovisual presentations and for drama, a dining room, parlors, and classrooms — and an inner court," Thurman's quote read. "This setting would contribute to a year-round program, integrating religion, art, and various cultures."
Elmore pointed out the various features of the original 1927 building that were restored to be displayed in their intended appearance — floors, ceiling, columns and even the ambiance of the space.
"This place is just as much a restoration project because we thought it is really important that we keep history," Elmore said. "There's sort of a sense of justice in this building."
Architect Peter Fuller, who built the space as a Cadillac showroom, financially supported Dr. Martin Luther King Jr., Elmore said. The original Cadillac insignia and clock were polished up in the restoration, remaining in the new Gathering Space. Between the two lies a Boston University seal.
One of the conference rooms, which will be more often used by BU faculty, displayed a collection of portraits and artifacts that honor King's legacy.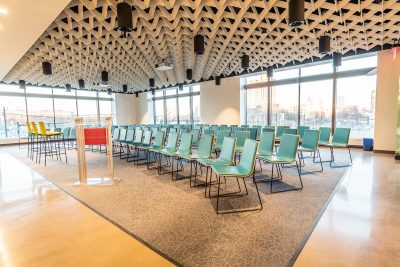 "We wanted to keep the showroom quality, this ornateness," Elmore said. "We restored the ceiling as best as possible to what it was."
Upstairs, the floor plan is less of the open showroom feel as on the main floor, which Elmore said is in line with how the building was originally used.
The only change, Elmore said, was adding silicone to the original cement floor on the second floor to "get a little give on your legs." The original cement columns are also exposed, some with the original markings by the contractors.
"You know, people really worked hard to do this sort of stuff," Elmore said. "Let's show their work."
A gallery wall on the second floor currently features photographs from Charcoal Magazine, but will change every so often. Elmore said the first exhibition, containing 56 pieces of Pete Souza, BU alumnus and former White House photographer, will be displayed Feb. 7.
Elmore said the new HTC will soon be certified a zero waste facility, and said no animal products were used in creating the space.
"The sustainability piece is really important for us," Elmore said. "About 91 percent of the things that come in here are going to be recycled, reused, or composted. Very few things will be thrown away. So it means we've all got to be mindful."
Thurman felt a connection to nature, Elmore said, and had a tree he spoke to. Adding that Thurman also talked a lot about the importance of listening, Elmore said they combined these aspects of Thurman's passions into a unique space in the HTC.
"[Thurman] just felt that nature and the earth and things have just as much soul and character," Elmore said. "So we wanted to do something without being outdoors that could give that sense of bit of respect."
The Listening Room, named after Lisa Williams, a donor who has often been dubbed a "latter-day Harriet Tubman," and dedicated to Erin Edwards, a late BU student who was heavily involved in the HTC, provides a quiet space for students to meditate and relax, Elmore said.
"We wanted to make sure you get calm around here," Elmore said. "You're supposed to come in here and just be in this place."
A floor-to-ceiling wall of moss — imported from Finland — responds to the atmosphere and changing texture, filling the room with a potent forest-like scent.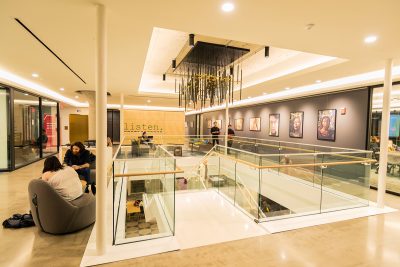 "[On] cold days, it gets really hard and then days where it's rainy or it's warm, or humid, it's like a carpet," Elmore said. "So it's dynamic."
In the social areas outside of the Listening Room, distinct pieces of furniture in muted colors against vibrant oranges and greens fill the space.
"We spent a lot of time on colors and these colors are going to be conducive to a bit of calmness and a bit of tranquility," Elmore said. "And then just a little pop to give you a spark."
Elmore said the intent of the space was for comfort, bonding and inclusivity. The low tables, for instance, allow for a student in a wheelchair to roll up and feel included and comfortable. The furniture is all lightweight and movable.
"You can put your elbows up, you can lean and you look in at each other," Elmore said. "We're trying to really build in this notion of informal interactions out here and real visible interchanges that people can have."
Additionally, he said they paid a lot of attention to postures, understanding that students sit and stand differently. The HTC features an ottoman that angles one's body in various ways and tables that accommodate both sitting and standing users.
Brian Cha, a senior in the College of Engineering, said his first impression of the HTC was that it was a very creative and colorful environment. While he said he fears the space would fill up with students quickly, he said he is happy the new space exists.
"I think it lacks seating… there needs to be more places to study," Cha said. "In general, I think BU needed another student space."
Neha Sachdeva, a freshman in the College of Arts and Sciences, said that she is tired of the Warren Towers' study lounges and the HTC has become her favorite spot on campus.
"I was trying to find somewhere else to go, all the coffee shops are usually busy and Mugar gets depressing sometimes," Sachdeva said. "[The HTC] has something for everybody, there's a lot of variety and a lot of arrangements to fit different types of studiers."