This semester, students have noticed a crackdown from the College of Communication Film and Television Department on their verification of equipment rental requests. While no policy changes have been made in over two decades, students say it has become increasingly difficult to secure rentals from the department.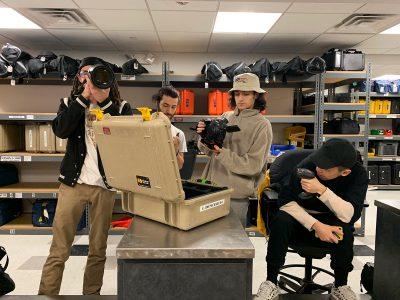 The FTV department's current policy states that equipment is "intended solely for use in FTV production courses and related projects," according to the department's website. The department's website also clearly states that the use of equipment for personal or extracurricular purposes is prohibited.
According to Brad Fernandes, director of technology for COM, this has been the standard for over two decades.
"The policy has been in place for many, many years," Fernandes wrote in an email. "The use of gear for coursework only was in effect when I was a student in the late 90s."
Despite the consistency in policy, changes were recently made to the online form students must fill out to rent equipment from the department. Paul Schneider, chair of the department of film and television, said this change was made after a number of students were caught "red-handed."
"Students were not telling the truth," Schneider said. "And we discovered that they were misrepresenting what they were using it for and taking equipment out under false pretenses."
Schneider said as of now, no action has been taken against students who were found to be breaking the department's rules. They all have been warned and Schneider said further incidents will result in charges of academic misconduct.
June Oh, a sophomore in COM, said he has been directly affected by the department prohibiting the use of equipment for extracurricular and personal projects. He said he and his classmates cannot find affordable equipment elsewhere.
"If [students] were to rent from outside rental houses, it's going to cost them thousands of dollars," Oh said. "We're paying 80 something thousand dollars a year for school, and all the equipment that they have, if you think about it, it all came from our parents or our tuition money."
He said previous to the department enforcing their rules more strictly, it was common among film students to rent the equipment for personal use. Oh said he believes the department should encourage students to use the equipment for more than just their classes.
"I feel like independent films are the way for film students to express their storytelling skills and apply stuff that they learned in class to actual, real world settings," Oh said. "But since now they're enforcing these strict renting policies, a lot of students are missing out on opportunities because they literally don't have equipment."
Schneider said that while the department wants to support students, they do not have enough equipment to facilitate extracurricular rentals in addition to rentals for classes. He also said the liability policy makes personal use of the equipment difficult.
"Not only do we not have enough equipment, but it's not insured," Schneider said. "The way that the Office of Risk Management works is that in order for BU to ensure equipment and also provide liability insurance, the project has to be done for a class."
Oh said he believes the department must find a solution to the problem, and he has been thinking of ways to help. One idea he plans to pitch is the creation of a two-credit film course.
"If the Film and TV Department makes two credit courses, or a guided study course that allows students to make independent films under faculty guidance, then it is no longer independent projects [that they're making,]" Oh said. "They're getting two credits, and then it becomes a school project. I feel like that's an easy solution."
Carlton Knox, a freshman in the College of Engineering, said he thinks COM's FTV department should be supporting students outside of their class endeavours.
"I think they should be supporting extracurricular projects," Knox said, "because it's important for students to build a portfolio with their own projects as well as class projects."
Shraddha Pingali, a sophomore in the College of Arts and Sciences, said that while she thinks the equipment should be granted to students for personal use, its availability for students working on class projects should be the department's main priority.
"I think the classes should take priority over personal things," Pingali said. "As long as it doesn't interfere with class resources, and if no classes are using them, I think they should allow [extracurricular use]."
Samir Singh, a freshman in COM, said use of equipment for independent purposes should be supported by the FTV department as long as there are methods for students to be held accountable.
"Honestly, I think the students should be allowed to rent out [equipment] for independent purposes, but I think there has to be like a certain amount of accountability on the students part," Singh said. "I think if there were to be a change, students have to be a little more responsible."