Richard Friedman has been chosen as the first recipient of Boston University's School of Hospitality Administration's new Icon Award, according to a press release Thursday.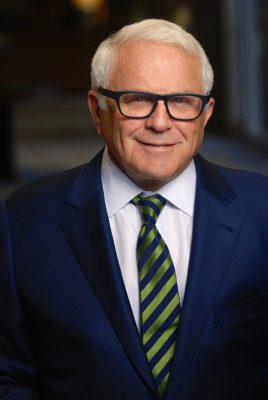 Friedman, president and chief executive officer of the Cambridge-based real estate and private investment firm Carpenter and Company Inc., will receive the award at the SHA Hospitality Leadership Summit on March 20.
Leora Lanz, chair of the SHA Hospitality Leadership Summit and chair of SHA's graduate program, said the Icon Award will be given out annually to someone who has made a significant impact on the hospitality industry.
"Icon basically means someone in our industry, whether it's from lodging, food and beverage, meeting, planning, tourism — anybody who sort of impacts any avenue of perspective of our industry," Lanz said. "Someone who we look up to and emulate."
Friedman's developments in Boston, including the Four Seasons at One Dalton skyscraper in Back Bay, Lanz said, have changed the city.
"This man has changed the landscape and even the skyline of Boston," Lanz said. "He has made a national and even an international impact."
Friedman said in an interview that his career in hospitality happened by chance and "wasn't really planned."
"What I've learned in life is that one thing leads to another," Friedman said. "In the late '60s, I was the ski coach at Harvard, and I was doing retail real estate, which means leasing stores to people. Then the department store in Boston asked me to sell a warehouse for them and I sold it to somebody who wanted to make it a Hyatt hotel."
Friedman said that as of present, he's been involved in the making of anywhere from 30 to 35 hotels and that he attributes his success to hard work and enjoying what he does.
"I have no distinction between work and play right now," Friedman said. "I've been working two or three hours — it's a holiday. I just enjoy work, so inspiration and things that I'm proud of just come from hard work."
Friedman said those looking to work in the hospitality industry should rely on their instincts and not be afraid to try something unique, as it's an industry you can do things differently in.
"It's a business that's not really trainable in the traditional sense," Friedman said. "It's not that kind of skill, but learning how to think about a problem and create a space that is a place that has a lot of vitality, a lot of life, and that people enjoy being at."
The Liberty Hotel, which opened as a hotel in 2007, is what Friedman considers an example of how out-of-the-box thinking can yield impressive results. The building previously served as the Charles Street Jail and is a national historic landmark that was originally built in 1851.
"Nobody would finance it, nobody would touch it — they thought it was a terrible location," Friedman said. "It wasn't obvious that it would be a great building, and yet, it's one of the most successful hotels in the world today."
Friedman said that going forward, he will continue to look for projects that pose unique challenges.
"I keep looking for new and exciting things, and right now I've got a pretty full plate," he said. "I love to do things in places that need this sort of approach that's unique."