Two graduate students in Boston University's Sargent College of Health and Rehabilitation Sciences presented their research at the American Physical Therapy Association's 2020 Combined Sections Meeting, a national conference that ran from Wednesday through Saturday.
Ellie Ottman and Jenna Zaje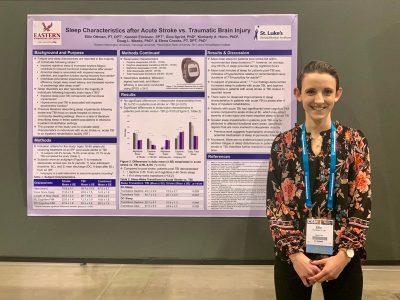 c, both first year PhD students at Sargent, traveled to Denver, Colorado for the conference to present posters displaying their findings. The conference hosted over 18,000 students and field professionals.
Ottman's research involved the study of sleep characteristics in people who have suffered acute strokes or acute traumatic brain injury. Ottman began her research at Eastern Washington University and that, upon coming to BU in the fall, continued her work.
Ottman said Louis Awad, her current faculty mentor and assistant professor of physical therapy at Sargent, as well as Elena Crooks, an assistant professor of physical therapy at Eastern Washington University, both played a significant role in her attending CSM.
"The professor I worked with, Elena Crooks, really pushed me to apply for conferences and to disseminate the research we were working on," Ottman said. "She encouraged me to apply for CSM, which I did with her support as well as with the support of my current mentor here at the BU."
Awad wrote in an email that Ottman's presentation at CSM gave her the chance to combine a wide variety of skills and put them on display for others.
"Although [Ottman] is a first year PhD student, she already completed training as a Doctor of Physical Therapy and is a practicing clinician," Awad wrote. "Presenting at CSM gave her the opportunity to combine her clinical training with the research training she is receiving at BU."
Ottman said the conference gave her the chance to find common ground between her research and the work of other physical therapists and researchers. 
"Even though sleep and neurological disorders may not be relevant to all clinicians who were there, I think it was a great opportunity to find common ground between us and to talk about how we can look at our patients from this very holistic perspective," Ottman said. "It was really an incredible experience, both from a perspective of being able to attend educational sessions at the conference, but also just from the perspective of presenting my own research."
Zajac's research focused on the effectiveness of clinical measures of walking in predicting the natural walking patterns of people with Parkinson's disease. Zajac will be continuing to research this topic over the next five years with the help of Jim Cavanaugh, a professor of physical therapy at the University of New England.
Zajec said the conference is one of her favorites because of networking opportunities and the broad reach of topics addressed by specific presenters and exhibitors. 
"The topics range from women's health to neurology, military physical therapy to aquatics, children to older adults. It goes all around the gamut of things," Zajec said. "I think the big thing is networking, as well. You're just able to meet so many people there."
Awad wrote that the conference also allows for students such as Ottman and Zajec to have an immediate impact in their field of study.
"Presenting clinical research is a very rewarding experience," Awad wrote. "Not only do you get the opportunity to share the work you love with colleagues across the world, but there is a high likelihood that your research can have near-term impact on clinical practice."
While Ottman and Zajec participated in the poster presentation portion of CSM, the conference also included a variety of educational seminars and technology displays relevant to the field of physical therapy. 
Teilachanell Angel, a first year MBA student in the Questrom School of Business, said she thinks research is nearly always beneficial, but that it is particularly Ottman's area of study with sleep.
"I think sleep is an area that most of us don't really think about," Angel said. "It's something that we do, but we don't really think about how it influences our lives [and] our health, so I think there's still a lot of opportunity to gain those insights through research."
Catherine Della Santina, a senior in the College of Engineering, said she herself has looked into the effects of not getting adequate sleep and believes Ottman's research could help inform more people of sleep's importance.
"I think the more research that can be collected on how the sleep cycle affects various things, the more we'll be able to understand the wide reaching implications of it," Della Santina said. "I think right now it's a fair assumption to say it affects all aspects of health, but being able to draw a tangible, quantifiable connection is always really valuable."
Vivek Cherian, a junior in ENG, said that the opportunity Ottman and Zajec had to present at CSM shows how dedicated BU is to providing research opportunities.
"I think it's a really great thing to do," Cherian said, "and speaks to the value that BU places on research as a research university."