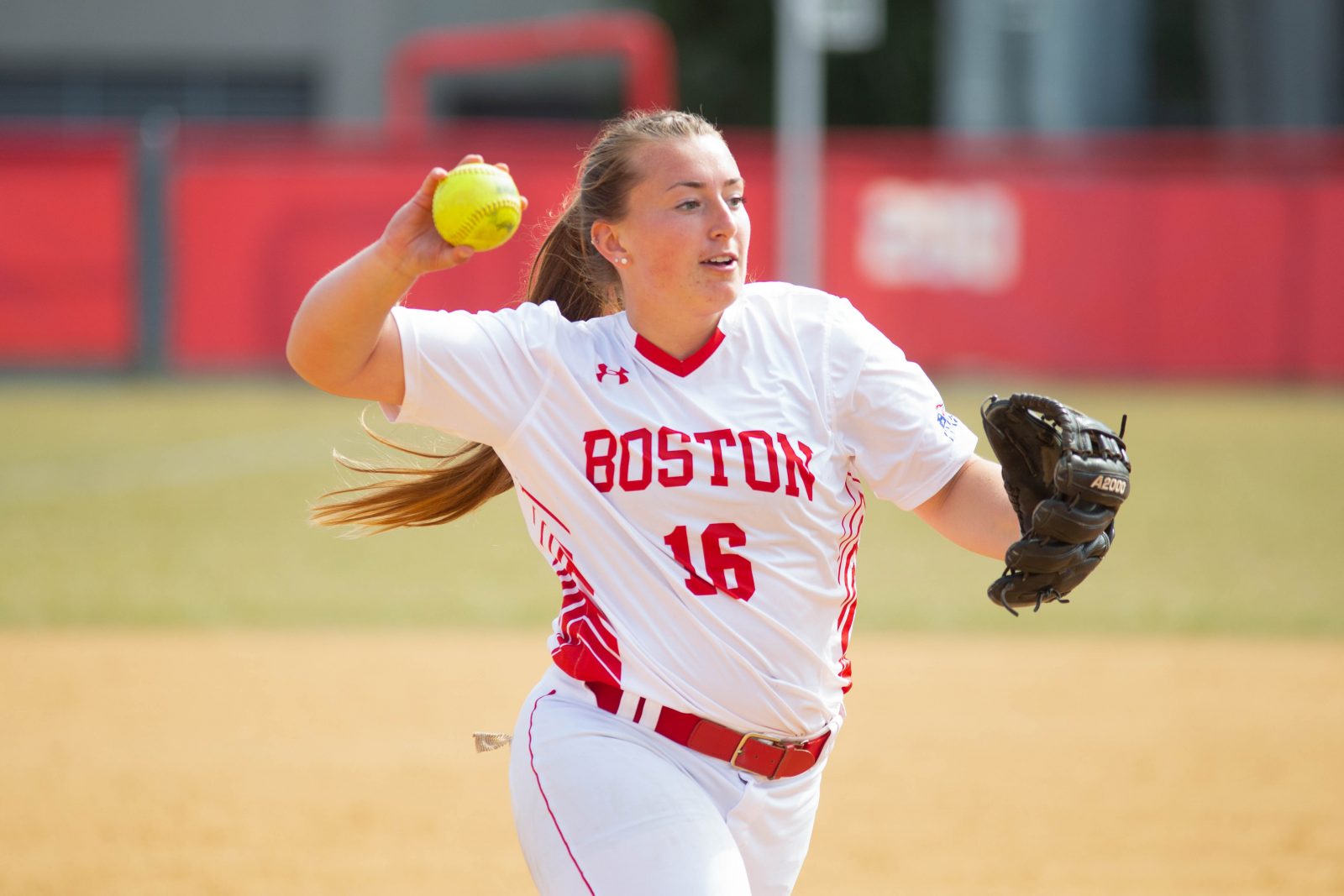 Between highlights and lowlights, Boston University softball has rolled through three invitational series this season. 
The Stetson Lead-Off Classic saw the Terriers (11-4) roll through Sam Houston State, Stetson University and George Mason University with ease. In the Winthrop Classic, BU collected wins against Georgetown University, Towson University, University of North Carolina at Greensboro and the University of Virginia, while only taking one loss against Eastern Kentucky University.
Now, after a Razorback Invitational with ups and downs, the Terriers will be facing tougher opponents ahead.
Razorbacks were Razor Sharp
The Razorback Invitational was the first series of the season where the Terriers had a ranked team on the slate. Then-No. 21/23 University of Arkansas was one of the many teams that head coach Ashley Waters scheduled in order to "throw [the team] to the wolves."
In the first game against the Razorbacks on Feb. 20, junior pitcher Ali DuBois threw five innings of shutout ball, only allowing one hit, but was ultimately solved by Arkansas, which hung four runs on her in the final two innings.
The second game against the Razorbacks was not as close as the first. Again, BU took the lead first, putting on two runs in the top of the third to take a 2-0 lead. But it was the Razorbacks who slammed the door on the Terriers, putting up four runs in the bottom frame, and not allowing BU to come back en route to a 2-12 loss.
Waters said the team has played well, but fatigue has been the biggest challenge thus far. 
"We left Arkansas knowing there's a lot of things that need to be addressed," Waters said. "I felt like Saturday, it was almost like we didn't have legs under us … just trying to figure out how to maintain that high level of play all the time." 
Ali the Ace
DuBois' talent on the diamond is being recognized on a national scale this season with her placement on the USA Softball Player of the Year Watchlist.
Just this season, she has already claimed honors for Patriot League Pitcher of the Week and holds a 7-4 record and a 1.50 ERA. She's also pitched four complete games, has 73 strikeouts and has 10 appearances where she did not give up any earned runs.
Coker is Cooking
Before the start of the season, Waters said that Coker was a name that would be showing up often on scorecards. 
Through 15 games started, Coker holds a team-best .381 batting average on five RBIs and 16 hits. She has also been one of the most disciplined at the place, taking a team-leading seven walks.
Waters said the freshman has exceeded expectations.
"She's a stud," Waters said. "That kid can flat-out play. I don't think there's one person that's been in the stands watching our games that hasn't thought she's crushing it … I can't imagine what she looks like her junior or senior year."
Terriers To Face Top Dog
After getting an introduction to top 25 play in the Razorback Invitational, the Terriers will head to Los Angeles for the UCLA tournament next week. 
In L.A. the Terriers will be facing No. 1 University of California Los Angeles and No. 13 University of Michigan. Also on the schedule are two games against California Polytechnic Institute and one game against San Diego State University. The series begins next Friday at 1 p.m. starting with a matchup against Cal Poly, with the game against Michigan following right after.
Leading the way in terms of slugging for the UCLA Bruins (15-0) is outfielder Aaliyah Jordan, who has started all 15 games this year and is batting .550 on 22 hits with 21 RBIs. Leading in the pitching circle is right-hander Megan Fariamo, who has started nine games and has posted a 0.73 ERA.
The Michigan Wolverines (10-3) are the reigning Big Ten Conference champions, where their NCAA Tournament run fell short from the hands of No. 16 James Madison University. 
This season, Michigan fell to unranked Liberty University. Leading the game 5-1 after four innings, Michigan gave up a three-run home run and a solo home run leading up to a comeback win for Liberty.
Waters said these tough opponents help prepare the Terriers for Patriot League and national play.
"You play this game because you want to play against the best," Waters said. "Realistically, if we go to a regional, that's who we're facing. It's better to see them early in the year and see what it's like to compete against them."