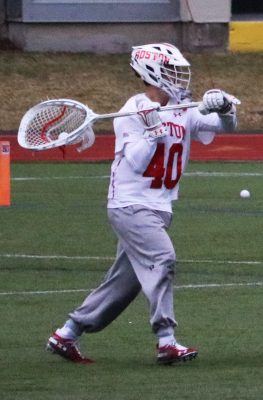 Joe McSorley knew he was in good hands that would set him up well for recruitment into college athletics while he was playing goalie for the lacrosse team at Calvert Hall College High School in Towson, Maryland.
Despite Calvert Hall being a 30 minute drive from his hometown of Forest Hill, McSorley said his travel time was pretty normal for the average student.
"My parents definitely sacrificed a lot getting me there every day until I got my license," McSorley said.
Although he played just about every sport growing up, McSorley fell in love with lacrosse and became one of the top high school goalies in the Baltimore area, earning him a spot on the Baltimore Under Armour Underclass team his junior year. 
After making the Under Armour team, McSorley got his first contact from BU and was in Boston touring the campus, where the senior said he saw himself attending the school in the future.
"I fell in love with it from the jump," McSorley said. "I knew it was all going to work out."
McSorley entered his freshman year knowing he would probably be backing up All-American Christian Carson-Banister, but was told by Terrier head coach Ryan Polley that it was an open competition at the position.
"We knew [McSorley] was good," Polley said, "and we really thought he could compete for the starting job."
McSorley played in just four games his freshman year but noted that he learned a lot from players like Crason-Banister, who he has a close relationship with.
"[Crason-Banister] was amazing, I learned so much from him," McSorley said. "He was the big mentor that year. It's just been a lot of older guys since then, that I've been a part of the goalie group with."
McSorley said his freshman year was a unique moment in the program's time. 
"I got to be here at a very cool time," McSorley said. "My freshman year was when the senior year was the inaugural class … seeing how much they cared about the program was a motivating factor for me."
Fast forward to this year and McSorley is playing in his final season as a Terrier and has been the starting goalie since sophomore year. He's been named to the Academic All-Patriot League Team in 2018 and 2019. He's been Patriot League Goalkeeper of the Week on six occasions and led BU to its biggest win in program history last season over No. 2 Loyola University Maryland, making 14 saves.
When asked about what his most cherished moment at BU has been, McSorley said the victory over Loyola took the top spot.
"I think Loyola was the best, to be honest," McSorley said. "Playing against Pat Spencer, who was one of the greatest to do it, and we shut him down defensively. It was a massive upset and put us in a great spot heading into the Patriot League playoffs."
BU has never won the Patriot League, nor has it made a conference championship appearance, but McSorley is hopeful and confident that the Terriers can achieve things they never have before in his final campaign.
"I think we've got all the pieces," McSorley said. "We have great leadership, great coaching staff and we have definitely have a shot of making a run at it."
Polley has been at the helm of the Terriers since 2012 when they became a varsity sport and is currently in his sixth season as head coach. The two-time New England Division I Coach of the Year has been with McSorley every step of the way in Boston and spoke very highly of his character.
"I think he's a super likeable kid," Polley said. "He's a true example of what a student-athlete is."
The role of a goalie is the "quarterback" of the defense and the rest of the field. The leadership McSorley has shown, which is evident when speaking up when watching film and suggesting ideas to make changes for future games, has been integral to BU's success, Polley said.
"When he speaks, certainly guys listen," Polley said.
McSorley spoke just as highly about Polley in terms of his leadership style and the kind of mentor he has served as during his career at BU.
"He always tells us it's our team," McSorley said. "He gives us free reign but he always trusts we're working hard and he's pushing us."
The Terriers currently sit at 3-3, and are 1-0 in the Patriot League this season as conference play is in full-swing.
With the 2020 lacrosse season in its early stages, McSorley has high aspirations for his team. However, graduation is quickly approaching for McSorley. He said he hasn't shut the door on continuing his lacrosse career after his days in the Questrom School of Business.
"Whatever happens with that and falls in place, I'll figure it out," McSorley said. "I don't have a clue yet lacrosse-wise, but I haven't heard much and whatever happens, happens. I'd love to keep playing."