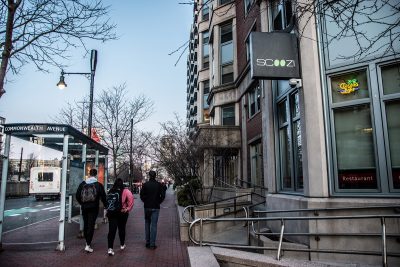 Shu DaXia, a popular hot pot chain from the city of Chengdu in southwestern China, will open its first location in the United States near Kenmore Square at 580 Commonwealth Ave.
The Chinese restaurant will take over space previously occupied by Scoozi, an Italian restaurant that filled the space across from the Questrom School of Business.
Shu DaXia will feature authentic hot pot cuisines, where diners can select their own soup base and choose from a variety of meats, vegetables and other items to cook in the hot pot.
Shu DaXia did not immediately respond to The Daily Free Press's inquiry about the specific time of opening, but Scoozi has closed down its business and the doors now feature posters announcing the expected arrival of Shu DaXia.
Scoozi has petitioned to transfer its liquor license to Shu DaXia, according to city records. The hot pot chain is also asking for more lenient restrictions on its sales of alcohol. It has requested to remove a term in Scoozi's license that previously prohibited serving alcohol without accompanying meals, as indicated by the city's licensing records.
Colin Riley, a BU spokesperson said he expects the hot pot restaurant to be "very pleased with the business they get" given its appeal to students on campus.
He also said that while the new restaurant is not affiliated with the school, dining services at BU strive to meet the tastes of students from different backgrounds.
"The university has a wide variety of food options," Riley said. "I think BU Dining does an outstanding job of doing authentic and a variety of international meals to meet the tastes of our students and to expose all of our students to these food options."
Other hot pot restaurants near the BU campus, meanwhile, say they do not worry about losing business because of the new addition. Many said they expect customers to remain loyal to the unique tastes offered at different places.
Mark Woo, a supervisor at Shabu Zen, a hot pot restaurant in Allston, said although there is a lot of competition among restaurants in the area, having better customer service makes them stand out and stay attractive.
"If they like what they have around here, of course they are going to come by," Woo said. "And it doesn't hurt to have a few couples of favorite restaurants, right?"
Lisa Jiang, an employee at Mala Restaurant located on Brighton Ave. in Allston, said she is confident the unique dishes they offer make customers stick with their place.
"We have been here for many years and we always get returning customers," Jiang said. "Our cuisine has won over the customers' stomachs and taste buds, and they come exactly for it."
Some BU students said they expect much foot traffic to the new hot pot place, saying its convenience and appeal to international students will draw a crowd.
Caroline Huynh, a junior in the School of Hospitality, said even though Shu DaXia might be more expensive than Scoozi, she thinks many students would pay the price for its convenient location.
"I think it will cater to most of the students here, because a lot of people like hot pot," Huynh said. "If it's on campus, no one's really going to want to leave campus."
Tiffany Huang, a graduate student in Questrom, said she is concerned about the potentially distracting smell of the hot pot place to students studying nearby.
"Hot pot restaurants have a strong smell, [and] it is just opposite to the Questrom building," Huang said. "It just kind of feels like Commonwealth Avenue is for studying. Probably [opening in] Allston or in Chinatown would be more feasible."
Samantha Sherer, a sophomore in the College of Arts and Sciences, said she is excited to try out a new type of food on campus.
"I am definitely excited," Sherer said. "I think it would be a good opportunity to have something different than dining hall food or the regular pizza place."