With the continuation of social distancing and working from home, the COVID-19 pandemic has affected many entrepreneurs economically. This includes men's fashion startup "Nimble Made," co-founded by Wesley Kang, who graduated from the Boston University Questrom School of Business in 2015.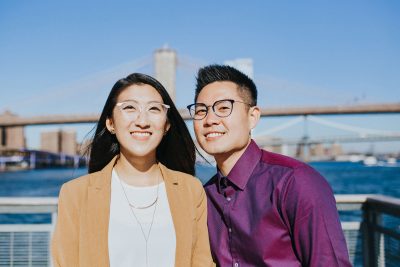 Kang, with his co-founder Tanya Zhang, started Nimble Made in 2018 with a primary mission of expanding size inclusion in the men's fashion industry, he said. Specifically, Kang said the company creates slim dress shirts that are designed to fit slimmer people, given his own difficulty finding quality brands that fit.
"[The idea] really came about when I worked in finance and I had to wear a dress shirt to work every day, but it was really hard for me to find one that fit my body right because I was slimmer than the average American," Kang said. "I wanted to create this company that would serve slim men in the Asian American community and other communities that have traditionally been left out and unable to find clothes that fit them right."
Nimble Made has gained considerable success in its industry in just over a year, and has released 11 shirts, Kang said. This success left them with high goals for this coming year, not anticipating the virus.
"Going into 2020, we wanted to double [last year's] offering," he said. "However, our supply chain has been severely held up because logistics, as well as manufacturing and labor, has been put on hold across the globe."
Colin Ma, a freelancing Search Engine Optimization specialist for Nimble Made who helps with the company's digital marketing and technological operations, said that long before the pandemic arose, the majority of sales came from online. However, he said he has seen this decline in shopping in the fashion industry at large, especially in business casual or business formal, as people are now working at home.
"Anything that is a little more pricey, a little nicer and not stuff that you can wear at home, that's all taken a hit," Ma said. "I've talked to other people in the industry where they're losing about 40 percent of traffic and maybe sales are like a third of what they used to be."
However, despite current challenges, Zhang said the team is optimistic about the future, adding that traffic has started to increase a bit more recently.
"I think people who have the disposable income are coming back and looking at dress shirts again and buying again," Zhang said. "It's a small uptick for now, but it's better than where we were in February."
Kang said the best way to support his company, as well as other small businesses and startups, is to be patient.
"One thing that entrepreneurs face is a lot of loneliness and doubt," Kang said. "I think you really can support people by talking to them, being there for them, and then of course… letting the world know there's a lot of people out there trying to do good, but being halted by this pandemic. That kind of awareness will encourage people, whether that's now or in the future, to want to shop small."
For those who can't support the company by buying their products, Zhang said reaching out to give feedback or to share on social media is another great way to support a small business like Nimble Made.
"If you don't feel like buying anything right now, we'd love to know what you would buy or… what exactly are you looking for," Zhang said. "It's giving us feedback, it's sharing about us on social media… I would love people to tag us and let us know how they are doing."
Kang said it is important for other affected startups to accept that they can't control everything.
"As founders or entrepreneurs, we tend to be very type A and want to move fast and want to get things done," Kang said. "But the reality is that's really hard to do right now in this environment… You have to wait it out and just be open to that."
Kang added that as entrepreneurs, they are used to the unknown. He said that though this situation is very uncomfortable and unpredictable, with the community's help, the businesses can make it through.
"Entrepreneurs already don't have a lot of control because everything that we do is a risk and every decision that we make is an unknown," Kang said. "And so to be put into this scenario where there's even less control is extremely uncomfortable, but just know that, there's not anything that you could have done differently to prevent this."