Though studying in dorms or at home is still an option, students at Boston University are turning to different avenues to get their work done in a more social setting while still following public safety regulations on campus.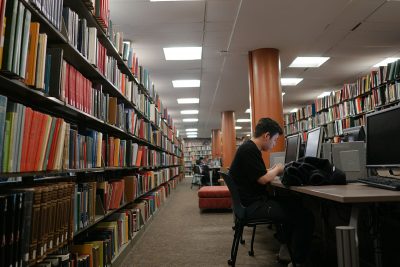 Mugar Memorial Library, which had been a hotspot for students looking for a place to study pre-pandemic, is still operating. But it now limits the number of spots open and is enforcing new rules, according to the library web page.
The library is open from 8 a.m. to 11 p.m. for students to study in. However, Mugar has "significantly" decreased its building capacity and restructured certain spaces to maintain social distancing, according to its web page. 
Dorothy Pak, a freshman in the College of Communication, said she does her work either in her room or at the library. She said she finds Mugar an especially productive place to work because of its silent atmosphere.  
"I've gone times where it's been empty, and I've gone times where it's been pretty full," Pak said. "You take up a whole table, or you sit really far apart at tables with other people."
But because students are advised to avoid common areas within dormitories — which are typically hotspots for studying — many are finding alternative places on campus to study.  
Professional engineering fraternity Theta Tau will have all of its study hours online this year, corresponding secretary Prachi Kholwadwala said.  
"What we're planning on doing is having Zoom meetings if people want to study together, and also really establishing a tutoring network within the members of our fraternity," Kholwadwala said. "To keep the academic aspect of our fraternity alive, I think working on the tutoring aspect is going to be pretty important for the academic year."
Prior to COVID-19, Theta Tau hosted these study hours all across campus to offer flexibility for its brothers. 
Kholwadwala, a senior in the College of Engineering, said she is fairly confident about the feasibility of holding these study hours online. 
"I don't think it'll be too much of a disaster," Kholwadwala said. "We have homework to do constantly, and because we're in our dorms and because there's limited things to do outside, I don't think it's going to affect studying in general."
Nina Zhou, a freshman in the College of Arts and Sciences, said she finds both pros and cons to studying in her dorm. For Zhou, one benefit to working in her room is the accessibility of needed materials. 
"If I need a stapler or hole puncher or a rubber band, paper clips, any school supply, it's right here," Zhou said. "I don't want to have to bring all my textbooks and all my school supplies with me … and then have to wear a mask, also, while studying."
On the other hand, Zhou said sitting in her dorm can get dismal at times, because she is trapped within the "same four walls" for the duration of her study session.
"Even the view outside my window isn't really helpful because it's a brick wall," Zhou said. 
Jordan Medina, a freshman in COM, wrote in an email that she has been getting most of her work done either in her room, the lounges in her dorm or on the BU Beach. 
"The library restrictions are definitely going to make things difficult," Medina wrote. "Once it gets colder, it's definitely going to be harder to find spots."
Mitchell Booher contributed to the reporting of this article.