Everyone has to eat. But is everyone taught to do so in the same way?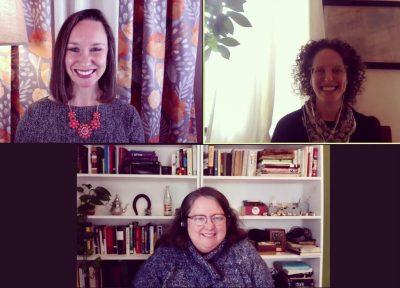 Differences in diet cultures between men and women are evident — the term "dude food" and the idea of "manliness" tend to evoke images of burgers or hot wings, not salad and smoothies.
A Boston University alumna of the Gastronomy Program — which approaches the study of food and society from a variety of academic perspectives — is striving to bring this issue to light through her writing.
Emily Contois, who graduated from the program in 2013, wrote the book "Diners, Dudes & Diets: How Gender and Power Collide in Food Media and Culture" examining this subject, and the BU Gastronomy Program held an event Friday featuring her work.
Contois' book, published last November, delves into the way food production and consumption has been gendered in order to influence the way people self-identify with food.
This is the first program of the Spring 2021 Pépin Lecture Series in Food Studies and Gastronomy.
Megan Elias, an associate professor and director of the Gastronomy Program, said though this talk is part of a series that is held every semester, Contois' talk was particularly meaningful.
"We're especially excited to have Emily because she's a graduate of the program and kind of began this research while she was in the program," Elias said in an interview. "Now, we get to see it grow into a whole book, so it's really special to us."
Contois said in an interview she initially thought her study of gendered dieting would end with her dissertation, but it ended up growing into something much bigger.
"It expanded, but it wasn't just dieting," Contois said. "I was also thinking about things like food and flavor, texture, appetite and then a lot of different food media forms, whether it was advertising or television or still print publishing with cookbooks."
At the event, Contois said the "dude" trope the book discusses could apply to many different identities, but the prominent one being a white man.
"There are women dudes … there are Black dudes, " Contois said at the event, "but primarily, especially in the media sources that I looked at for this book, the dude is primarily connoting a sense of masculinity that's inherently white."
Contois said her overall goal in writing the book is to make readers think about the impact of food media and marketing on the shaping of masculinity and femininity.
"A big message of this book is about where our ideas about gender come from, what we think masculinity and femininity are and how food media and marketing in particular has played a role in those being really binary understandings," she said, "that limit the possibilities and opportunities for how we can think about who we are."
Dana Ferrante, a student in BU's Gastronomy Program, wrote in an email about the book's discussion of food's impact on our lives.
"Dr. Contois' book shows how powerfully food and food media shape our lives," Ferrante wrote. "With its focus on advertisements, Diners, Dudes, and Diets reveals the power food/food media has to define, or redefine, what it means to be 'masculine' or 'feminine.'"
Ferrante also wrote the book's handling of complex ideas illustrates the applicability of food studies.
"Everyone has a stake in a conversation about food, and so using food is a extremely fruitful way to discuss larger, intangible ideas—such as the patriarchy, the gender binary, racism, queerness, politics, etc," she wrote.
Elias said she particularly enjoyed the mentioning of Weight Watchers for men in Contois' book, which serves as an example of companies pushing men to diet.
"It's this very poignant section where a global company just wants to make more money," Elias said, "and they end up doing it by fueling the inadequate feelings among people who had traditionally not had to worry about those things, who had the sort of privilege of masculinity."
While Kate Cherven, a 2020 graduate of the Gastronomy Program and previous student of Elias', wrote in an email she has not yet read Contois' book, but the program is full of food analysis classes that mirrors the author's work.
"Analyzing food in the context of culture and how it shapes our identities is what the Gastronomy Program does best!" Cherven wrote in an email. "Food and identity are intimately linked on every level."
Overall, Contois said she hopes this book will give people a lens to analyze and identify the ways in which food advertisements shape our ideas about gender.
"I genuinely hope that the book helps folks to become more critical consumers of the messages that media and marketing impart," Contois said. "We can critically resist if those messages are damaging and how we can push these industries forward to a more just and joyful future."