Around 38 million people were living with HIV in 2019, according to global statistics from the Joint United Nations Programme on HIV/AIDS. Thirty eight million people who, often, not only live with the illness but also a perpetual stigma and shame.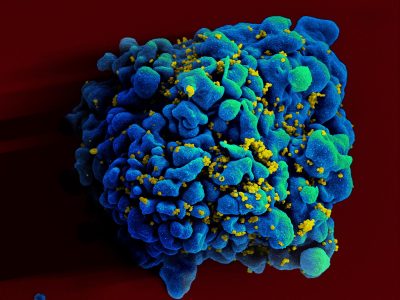 Boston University's Department of Sociology organized a talk Monday titled "Delaying Sex and Wrapping it Up: HIV Stigma Beliefs, Media Exposure, and Risky Sexual Behavior in Sub-Saharan Africa."
The event is a part of the BU Sociology Seminar Series, which feature speakers from different universities' and their research about pressing sociological issues. The department typically hosts four speakers per semester, this being their second.
The main speaker of this event, David Cort, associate professor of sociology and associate dean for diversity, equity and inclusion at the University of Massachusetts Amherst, presented on the relationship between attitudes about HIV and personal sexual behaviors — particularly among youth in Sub-Saharan Africa — and the media's role in the conversation.
"Does the regional media exposure moderate the relationship between stigma beliefs and sexual behavior?" he asked at the event. "The answer is a resounding yes."
Cort said his research investigates how social processes are affected and change across different social contexts and geography. He said he found that stigmas surrounding HIV were linked with both protective and harmful sexual behaviors.
"As media exposure increases, the protective effect of stigma beliefs on sexual debut wears off and the harmful effect of stigma on condom use tends to wear off also," he said. "So, we see that exposure media has benefits and it has costs."
In an interview, Cort said he measured participants' level of stigma by assessing how comfortable they would feel interacting with an HIV-positive family member, teacher and store owner.
He said he found that sexually inexperienced youth who held negative stereotypes about HIV are more inclined to delay sexual activity — a positive epidemiological outcome.
Once youth became sexually active, however, attitudes stigmatizing HIV are associated with an increased risk of non-protective sex — a negative epidemiological outcome.
Deborah Carr, professor and department chair of sociology, discussed how the "us versus them mentality" contributes to this mechanism.
"Sometimes, it makes people feel better to say, 'Well, this happens to those people, but it can't happen to me,'" Carr said in an interview. "That can be a harmful belief."
This way of thinking is present in most societies today in a variety of ways, she said, from COVID-19 to sexually transmitted diseases.
While Cort said he recognizes the mixed outcomes of stigmatizing attitudes, he said he thinks the overall belief system is detrimental because of how those ideas are formed and who is receiving them — they can't be a "one-message-fits-all kind of thing."
"My comments all hang on the idea that stigmatization is something that is actually bad," Cort said. "Media campaigns need to think about that but add more nuance into how the messages are created."
While his research was primarily on Sub-Saharan Africa, Cort said his findings — the pervasiveness of stigma surrounding HIV — could apply to other regions, specifically Latin America and the Caribbean.
Of the 1.1 billion people living in  Sub-Saharan Africa, around 25.9 million had the disease in 2017 — about 2.4 percent — according to the Global Burden of Diseases, Injuries, and Risk Factors Study 2017.
As of 2019, adult HIV prevalence is 1.1 percent in the Caribbean, and 0.4 percent in Latin America.
Cort also said the large-scale idea of his research could be applied to stigmas of any disease, even COVID-19, in new research.
"The question is how stigma of any kind of disease, or expressing stigma beliefs about any kind of disease, links to behavioral outcomes that we care about," Cort said. "If you're stigmatizing people who have COVID, then the question is, to what degree does that relate to behaviors that [you] do personally?"
How media campaigns can encourage protective behaviors while minimizing stigmas with disease is "the million dollar question," Carr said, but being direct is key.
"To make sure that when [the media is] giving lessons, that it's really clear things," Carr said. "'Here are concrete steps that you can do to protect your own health.'"
She said media campaigns should be launching positive campaigns — rather than victim blaming or fear mongering — not only for campaigns ensuring safe sex, but for those discussing the pandemic, smoking, obesity and other illnesses.
"Do not show images that make those who have an illness look like they have done something to bring it upon themselves," Carr said. "People often get sick due to no fault of their own. We know there are structural inequalities that make some people more vulnerable than others."
Joseph Harris, an associate professor of sociology at BU and event attendee, said Cort's work provides "interesting new light" on the media's effect on HIV risk.
"One has to look not just at the effects of media in general, but also the quality of different media campaigns, the content and the like," he said in an interview, "when really understanding how it's going to impact the public and behavior."