Just over a year ago, Boston University announced the cancellation of its Community Service Center's Alternative Service Breaks — a program that typically offers students a week-long service trip across the United States to build community around social justice causes.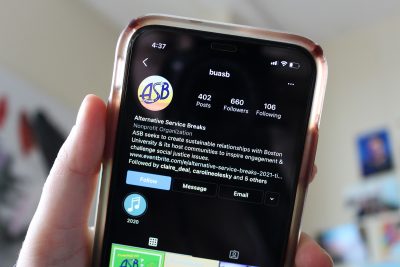 Despite the absence of Spring Recess, when ASB typically takes place, and current restrictions on travel, this year's program is adapting — 2021's theme is "Crossroads," and the program will feature virtual and potential local in-person events.
Students involved in this year's ASB will attend the program's activities over the course of three weekends, said Ciara Cullen, a program manager for ASB and senior in the College of Arts and Sciences.
"In a typical year, Alternative Service Breaks will travel to different communities around the U.S.," she said. "[This year] everything will be able to be done in the [Learn from Anywhere] format so for people who aren't on campus, still able to participate."
Last weekend was ASB's second service opportunity — the third will take place April 17-18.
Because of pandemic guidelines and the suspension of out-of-state ASB trips, Cullen said she and the other ASB program managers decided to make service activities virtual by working with various Boston-based organizations and other past partners.
Cullen said volunteers would be participating in activities such as posting on social media, contacting representatives and making children's blankets over Zoom.
"We are very aware that people have different levels of comfort," she said, "so even if we have in-person service opportunities, which so far there haven't been any … we've made sure to ask volunteers if they're comfortable with public transportation, if they're only comfortable walking, things like that."
The organization has operated completely virtual thus far, including hiring and organizing with student coordinators.
Cullen added the theme "Crossroads" hopes to highlight intersectionality in social justice and their five 2021 focus areas: public health, sustainability, food and housing justice, human rights, and education, youth and family advocacy.
"Different areas of social justice work hand-in-hand and you can't remove one from the other," she said, "and so that's what we wanted to focus on with the theme of 'Crossroads.'"
Greta Bauer, a CAS sophomore and second-year ASB student volunteer coordinator, said the program's focus areas allow participants to pick what type of advocacy they do during ASB.
"Each of these five groups do different things," Bauer said. "Volunteers sign up for one group, and so they do a lot of different things, focusing on their breakout areas."
For instance, Bauer said the human rights group participated in a workshop through the Integrated Refugee and Immigrant Services, a Connecticut-based organization. She said they're also working with a New Orleans animal shelter to make dog biscuits.
While fewer students have signed up for the 2021 ASB compared to previous years, Cullen said she was surprised with the number of students who applied and joined the program.
"A lot of people are experiencing Zoom fatigue from classes, and the change in the schedule does make it a little bit more difficult since we're doing our service all on weekends," Cullen said. "But we have had, so far, about 50 volunteers sign up, and we have a team of 10 coordinators … which is really exciting."
Warren Liu, a junior in the College of Communication and student volunteer coordinator, said he is in the education, youth and family advocacy group.
As a coordinator last year, Liu said he planned an environmental service trip to Shawnee National Forest, but the CSC program was canceled beforehand. Though this year is different, he said working with the new organizations — a local and a national partner — has been enjoyable.
However, volunteering virtually has also created challenges when it comes to the social component of advocacy work, he said.
"I mean, you never really get to know [other volunteers] face-to-face," Liu said. "If you cannot [feel] the collective or the social aspects when you're doing service, it doesn't really mean to you as much as if you're really doing it physically."
However, despite the limitations, Liu said he decided to continue participating in the program this year because he values the purpose and collaboration.
"I do want to contribute to the community, and I do want to know people better," Liu said. "I learned that this is the most authentic way to know people because you get the same goal and the same direction when you are heading together to the same social justice."