Recently, there have been nearly a dozen break-ins in Newton, Massachusetts. Three men have been arrested for the crimes, and in response to the burglaries, local police have asked residents who own security cameras to participate in a virtual neighborhood watch by registering their devices on the Newton Police Department's website.
These security devices include Ring and Blink cameras. Newton police will not have access to the devices, but registering them will help law enforcement know which houses may have visually captured an event or perpetrator.
This case seems to represent a productive use of home surveillance. Especially after a string of break-ins, being able to see who comes and goes in a neighborhood can give peace of mind and allow residents to feel like they're keeping their community safe.
The Ring products, made by Amazon, even produced a Neighbors by Ring app, which truly allows you to revitalize the classic "neighborhood watch" group by bringing it online and posting suspicious footage anonymously. It can also help build a community on a non-criminal basis: highlighting a kind person shoveling a neighbor's snow or posting other good deeds.
But introducing the virtual neighborhood watch concept in Newton and pushing more fearful residents to rely on security cameras — and indirectly, the platforms that accompany those cameras — could be dangerous.
The most obvious risk is that this mindset promotes a surveillance state and invasion of privacy. Of course, public streets are just that — public — but it feels morally questionable to be able to permanently record and access these videos, not to mention share them without all the necessary context.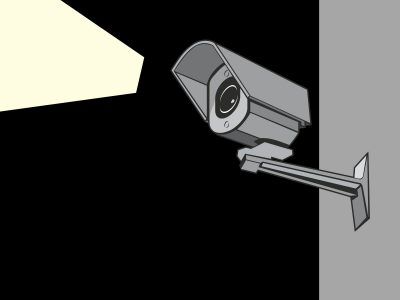 Normalizing surveillance and these privacy breaches by inserting ourselves into such practices could ease us into increased surveillance outside of our homes without us even noticing.
Along with the surveillance state comes paranoia, which, when paired with social-media-esque platforms, can spell disaster. As a society, we are much too willing to believe videos as the truth, even though context can be lacking and technology has progressed to the point where deepfakes and other falsified videos can be produced.
With the inherent echo-chamber nature of social media, people have gone above and beyond in threatening, ostracizing, humiliating and ruining the reputation of ordinary people or strangers.
A former Somerville homeowner visiting their old home out of nostalgia went viral for being a suspicious trespasser in 2019 on the Neighbors App, and the video was even sent to the Somerville Police.
Notifying neighbors and raising awareness about potential break-ins is beneficial, but news reports and safety alerts can accomplish the same task. Ultimately, taking justice into your own hands vigilante-style comes at a moral cost.
There's a literal financial cost involved as well — only those who can afford security software are able to install it and use it at home. This means use of smart security devices and more advanced security systems would be particularly concentrated in affluent areas.
These wealthy neighborhoods — such as Newton — are often predominantly white, which means racial profiling and racist sentiments can be more easily proliferated.
Ring has a history of actively enabling racism and promoting beliefs that Black people don't belong in these predominantly white, upper-income neighborhoods. The posts on Neighbors disproportionately single out people of color and allow verbal abuse and threats in the comments.
The devices and app have even been used against delivery employees of color for not doing their job as well as the residents would have liked.
Because Ring has ties and partnerships with law enforcement and having videographic or photographic evidence could allow people to more easily report what they perceive to be crimes, Ring allows an easy transition from digital hysteria to real-life policing, which has substantial, lethal consequences for people of color.
Home surveillance may not even be effective at decreasing neighborhood crime. While using outside cameras seem to be 50% effective at deterring break-ins, as reported by Security.org, other findings and recorded criminal activity seem to suggest they do not deter crime at all.
Although security cameras could potentially create a safer environment as well as foster a sense of community through forums such as Neighbors, it also comes with many pitfalls that we must be wary of. Overall, it appears to be an ineffective device that only serves to romanticize vigilantism, for which the price is all too often one unjustly paid by others.