To different people, summer can mean different things: a well-deserved break, the beach, bonfires. The list goes on and on. To me, summer is always a memorable season, not only because of some unforgettable memories I've made in the warm months but also because of the soundtrack that always accompanies those moments. 
Music plays a huge role in my fondest memories, and this summer was no different. Whether it was through my headphones while interning remotely or in my car while driving around my suburban hometown, here are the songs I played on repeat this summer.
"Stuck In The Middle" by Tai Verdes
I distinctly remember hearing this song for the first time. It came up on my "Discover Weekly" playlist on Spotify, and Verdes' soothing voice immediately got me hooked. With a smooth guitar riff and lyrics that paint a familiar scenario of being in a "situationship," "Stuck In The Middle" became a fast favorite. 
This was one of the first new songs I discovered this summer. Most of my friends ended their semester after I did, so this song was the perfect tune to accompany my shift from an academic focus to a working one.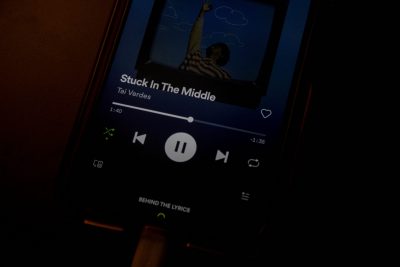 "Leave Before You Love Me" by Marshmello and Jonas Brothers
To put it simply, "Leave Before You Love Me" is just a fun pop bop. It's a good one to blast in your car as you're driving to get ice cream in the sweltering heat, windows down as the air conditioner is gearing up. This specific scenario happened to me often over the summer, and this song always seemed to be playing during those moments.
The Jonas Brothers always hit, and this song is just fun. Nothing special, nothing crazy. Just a good song. 
"traitor" by Olivia Rodrigo
It would be remiss if I didn't put at least one song from Olivia Rodrigo's debut album, "SOUR," on this list. "SOUR" has been one of my favorite albums of the year so far. On top of the great tunes, Rodrigo is 18 years old, which makes all her success all the more incredible. 
I could've put any song from "SOUR" on this list, but I chose "traitor" for a few reasons. Firstly, since it initially grew on me, I rarely skip it. Secondly, I find it incredibly fun to scream the lyrics with a friend. Lastly, the lyrics are so honest and raw that you can't help but feel Rodrigo's pain, even if you don't necessarily relate to yourself. The lyrics "God, I wish that you had thought this through / before I fell in love with you" are definitely words I've probably written in my journal before.
Honestly, I recommend this whole album, but "traitor" was on my constant rotation this summer. 
"I Quit Drinking" by Kelsea Ballerini and LANY 
Ballerini's sweet voice and piano chords start the track, and for me, that's usually all it takes for me to pay attention. Add lyrics that tell a story and summon a vivid memory and I'm sold. 
"I Quit Drinking" does exactly that. The lyrics tell a story of reflecting on a past relationship and how your daily life and mannerisms can be changed after a breakup, almost subtly and sneakily.
Duets have always been my kryptonite, and this is a beautiful version of one. It always adds another layer to the story, sonically and musically. Ballerini and LANY's voices blend so cohesively, making it a gem of a song.
"Starting Line" by Luke Hemmings 
Putting my personal love for the lead singer of 5 Seconds of Summer's Luke Hemmings aside, this song is my song of the summer, maybe even song of the year. 
This song hits me in a place that I can't quite accurately describe. It's that song that I would play driving across a bridge at night, but also a song I would sob to in the shower. 
Hemmings sings effortlessly about how your life can just pass by without you truly being able to handle or process it. That's a feeling a lot of us can relate to, and I think it's a good message as the summer ends and the school year starts back up again — life is just a mix of events occurring and us thinking about them. This song doesn't necessarily answer any questions for me, but it leaves me in wonder, just like life does. You can't predict the future, but you can reflect on the past and use that information to move forward.