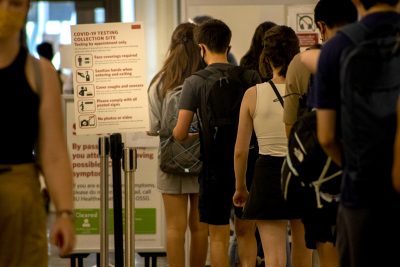 Boston University will close the COVID-19 testing site located at Agganis Arena Sept. 24, following the closure of the Kilachand Center for Integrated Life Sciences and Engineering site on July 19 and implementation of faculty and staff unobserved testing. 
After the transition takes place the only observed testing sites on campus will be 808 Commonwealth Avenue and 72 Concord Avenue at the Boston University School of Medicine. 
Unobserved testing kiosks which opened July 19 for faculty and staff at 1019 Commonwealth Ave., 179 Amory St., One Silber Way and the George Sherman Union will remain available. Appointments to pick up testing kits can be scheduled on Healthway and can be dropped off in the same location. 
BU spokesperson Colin Riley said the Kilachand CILSE building and Agganis Arena will return "to their primary uses."
"Those spaces are in high demand by the researchers in the building and the faculty in the area," he noted. 
Christine Yoh, a sophomore in the College of Communication and resident of Kilachand Hall, called the testing site closure at CILSE "a little unfortunate."
"The Kilachand testing site is close to all the Bay State dorms, as well as Kilachand [Hall], and  Warren Towers, which houses a lot of freshmen," Yoh said. "I do think that was a very convenient location to have a testing site."
Yoh said opening up smaller areas of CILSE to conduct testing could be a beneficial alternative to closing the whole building.
Aarohi Goel, a sophomore in the College of Arts and Sciences who lives in Allston, said she wanted all testing centers from the previous year to stay open.
"Especially with everyone being back on campus, I do not think that Kilachand testing center should ever have been shut down," Goel said. "I'm also quite angry, frustrated, confused as to Agganis Arena shutting down. This doesn't create an inconvenience just for everyone in West campus, but also for anyone who lives off-campus in Allston."
Riley noted the University needs the space in Agganis to host events this year that have not been possible since the pandemic began.
"Agganis Arena has a lot of demand on its space, and it wouldn't be able to continue that collection testing," Riley said. "There are concerts, there are games and it's really been heavily used in years prior to the pandemic."
Riley said 808 had fewer demands on its space than CILSE and Agganis Arena.
"The entire space had not yet been used for other purposes," he noted. "We had had a couple programs in that site where the testing is with conferences and meetings but by and large, it had not had new use."
Elise Cimino, a graduate student in Sargent College of Health and Rehabilitation Sciences, said she thought the closure of Agganis would add to the challenge of booking a testing appointment.
"It's been a lot harder than last year," Cimino said. "I just feel like it'll make getting appointments a lot harder than it already is."
Nell Curtin, a senior in the Wheelock College of Education and Human Development, said she knew of people who had struggled with scheduling tests.
"I know a lot of my friends have had problems with scheduling testing," she said. "I know if you just do it a week in advance, you know you'll always find an appointment."
Curtin said BU could make testing more efficient by removing the need to schedule a specific appointment time. 
"It seems like we're moving through [the testing site] pretty quickly," she said. "People need to get to class, it's not like we have hours to wait in line."