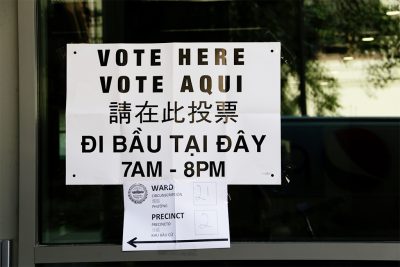 As the Boston Preliminary Municipal Election commenced Tuesday, voters across the city expressed their opinions about the candidates, important issues and the voting process.
There were eight candidates on the ballot: City Councilors Michelle Wu, Annissa Essaibi George and Andrea Campbell, acting Mayor Kim Janey, former city chief of economic development John Barros, retired Boston Police Officer Robert Cappucci, North End resident Richard Spagnuolo and State Rep. Jon Santiago, D-Mass., who dropped out last month.
Back Bay resident Faith Cuenin said this was an important election and suggested several issues Boston should focus on as the city decides its new leadership.
"I think the city faces a lot of challenges in terms of education, housing," she said. "It's a pivotal election."
She added that while difficult to narrow down, housing and the Mass/Cass public health crisis are major problems to be addressed by the new mayor. 
Cuenin also stated the importance of showing up to preliminary municipal elections.  
"The preliminary election drives the November election," she said, "and I'm a resident of the city, and I want to participate in the voting process."
Retired Back Bay resident Bill Bulkeley said the preliminary election is important because it could help his preferred candidate reach the actual Mayoral election on Nov. 2.
"We've got great choices,"  Bulkeley said, "very interesting election."
Bulkeley said he supported Campbell in this election because of her stance on police reform. 
"I think that Andrea Campbell has shown the most willingness of any of the candidates to stand up to the police union and the police hierarchy," he said. 
Liz Stetson, a landscape architect living in Jamaica Plain, said she voted for Wu. 
"I liked what she had to say about gentrification and affordable housing, as well as climate issues," Stetson said, "Those are some of the most important for me."
Guthrie Kuckes, a senior in the College of Arts and Sciences at BU, said that while he approved of the fact that his preferred candidate for mayor pledged to build more addiction treatment centers, he wasn't fully satisfied with the candidates' environmental policies.
He added that he hopes the new mayor will develop a plan to transition the city into becoming carbon neutral by 2030.
"I'm not sure I found a candidate who was as strong in environmental message as I would like," he said. "That is probably the most important issue to me."  
Kuckes touched on the importance of voting in the city council races in addition to the mayoral race. He cited the 2019 City Council race in which Councilwoman Julia Mejia won her election by a single vote as an example.
"To me, the city council races are important because so few people vote, you have a large opportunity to make a difference," Kuckes said. 
Alexandra Dowd contributed to the reporting of this article.