Kacey Musgraves was on top of the world. Her 2018 album "Golden Hour" took home the Grammy award for Album of the Year that year, on top of three other Grammy awards. 
"Golden Hour" was about her husband at the time, Ruston Kelly, a fellow singer-songwriter. Their marriage inspired the deeply romantic country-pop album, featuring lyrics dripping with love complemented by relatively simple, acoustic production. On the title track "Golden Hour," Musgraves sings "you're my golden hour / the color of my sky / you've set my world on fire / and I know everything's gonna be alright." So sweet, right?
Her new album "star-crossed" — released September 10, 2021 — is a dramatic departure from the lovely purity of "Golden Hour." It recounts her journey through her 2020 divorce from Kelly, told in three acts like classic Greek tragedies — as she detailed on Instagram.
We begin act one with Musgraves reminiscing about her marriage. On "good wife," she contemplates the things she could have done differently to be a better wife to him, while "cherry blossom" romanticizes their early relationship.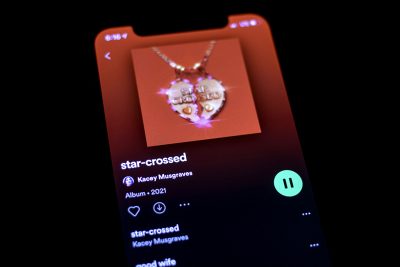 This bittersweet retrospection introduces Musgraves' complex, conflicting emotions surrounding her divorce. Perhaps the most direct example of this is "justified." "justified" introduces the second act, one tinged with anger. While the first act was punctuated with wistful recollections, the second act does little to cushion the blows. Here, she gives listeners a glimpse into the emotional rollercoaster of her past year, describing how she knows that these feelings are normal and understandable despite their contradictions.
On "breadwinner," Musgraves sings about jealousy in her marriage with overproduction guaranteed to make your head bob to the beat. "He wants your shimmer / to make him feel bigger / until he starts feeling insecure," sings Musgraves.
"camera roll" sees Musgraves regret looking at old photos of her and her lover, yet not wanting to delete any for fear of losing the memories. The vulnerability this song elicits is echoed in other tracks, but the intimacy of the specific moments mentioned feels as if you are Musgraves' best friend. The anger here is not directed outwards, but at herself for revisiting these memories.
However, the end of "camera roll" moves the listener forward to a Musgraves who has grieved and moved on —  a version of herself that can look at photos and remember the experience but not miss the person.
The final act is one punctuated by growth and reflection. "hookup scene" tells Musgraves' experience in more casual relationships following her divorce and her wish to have somebody to love. She appears to be looking back and realizing that maybe her troubles were not as bad as she previously thought.
The song complicates what could have been a simple narrative about a failed marriage where everybody is better off in the end. Now, we see Musgraves almost regret her divorce. She admits "I wish I would've known I didn't have it so bad." Musgraves eloquently and beautifully communicates this unquestionably painful sentiment.
We close with Musgraves looking to the future. "there is a light" is a blend of musical genres with an underlying flute solo throughout. We see Musgraves recognize her worth and her future potential over a groovy instrumental. "gracias a la vida" is a cover of Violeta Parra's song of the same name, where she thanks life for everything, positive and negative. It perfectly concludes this complex, emotional story.
Overall, the album is an excellent follow-up to the career-defining "Golden Hour," but it does not quite live up to its charm and simplicity. Part of the love I have for "Golden Hour" comes from the breezy ease of its sound and lyrics. You can feel Musgraves' anger, sadness and nostalgia scattered throughout the country-pop hooks and more electronic production in this latest body of work, but the charm never quite matches up to "Golden Hour."
Vocally and lyrically, Musgraves shines, but the album overall feels somewhat overproduced in places. "star-crossed" is definitely not a pure country album, and part of me wishes she stayed closer to that genre. However, I truly am a pop music fan at heart, so I still enjoy the direction she took.
"star-crossed" is a window into a deeply personal chapter of Musgraves' life where she truly invites us to see the good, the bad and the complicated. "Golden hour faded black," sings Musgraves on the track titled "what doesn't kill me." It is a perfect summary of this album and this chapter of her life. The honeymoon of "Golden Hour" is over. "star-crossed" leaves "two lovers ripped at the seams."