Going from a Zoom stand-up comedy performance to a full house at BU Central "makes all the difference," Avery Lender, vice president of Boston University Stand-up Club, said after the club's first showcase of the semester.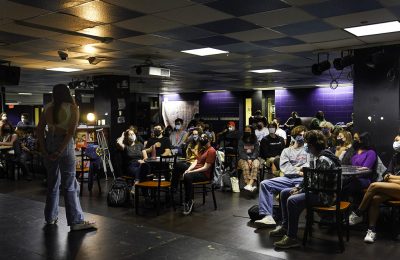 Tuesday marked the beginning of their bi-weekly, live shows — nine students performed at 9 p.m, including hosts Lender, a junior in the College of Communication, and club president and COM student Sam Strom.
"I miss live performing so much and, every comedian will say this, but Zoom comedy is just not the same," Lender said after the full show. "Just feeding off the audience's energy I think is really important. Seeing people actually laughing, even if you can't see them smile makes all the difference."
BU Stand-up Club is one of many in BU's arsenal of stand-up, improv and sketch comedy clubs. The variety is strong, and so are each club's contributions to the community.
The Callbacks are the only troupe at BU to perform both sketch, video and improv comedy, and during the pandemic, they were able to explore video more. Madison Lamothe, co-president and a senior in the College of Fine Arts, said the club successfully recorded video sketches while following COVID-19 safety guidelines last year, and also hosted a comedy show with other colleges over Zoom.
The team meets twice a week and performs twice a semester, and the team of normally eight to 12 people write, edit and produce their improv and sketch videos. Their first performance this year was at the Weeks of Welcome's Student Showcase at the Tsai Performance Center.
"All of us were just so excited because like people saying 'clap' in a chat is not the same as people actually clapping and laughing at your jokes," Lamothe said. "We're all just excited to get back to the live audience energy because we haven't felt that in a while."
After the troupe finishes auditions later this week, The Callbacks will begin rehearsing for their first official show that will be at BU Central on Oct. 30. This year, Lamothe said she's hoping the club can keep up their momentum with video production skills they improved during the pandemic.
"A lot of us feel more confident in our ability to film videos in a reasonable time," she said. "I'm hoping that we will keep up that pace and we'll be able to at least show a few videos during our shows and then post a few to our YouTube account."
Slow Children At Play, or affectionately Slow Kids, is BU's "premier sketch comedy troupe" and is the oldest running troupe at BU. President and COM senior Sophia Stio said that last year, Slow Kids continued to rehearse and perform over Zoom.
"We, of course, did Zoom practices because we didn't want to lose the opportunity to write new material," Stio said. "You want to stay fresh when you're doing comedy, you don't want to lose that. It's like a muscle."
Their first show this semester is Oct. 16 at Tsai Performance Center. Stio said for many new members and those who joined last year, this will be their first time performing on stage.
"We're very eccentric, I think that's our claim to fame," Stio said. "We're very alt-comedy, so you can expect to laugh and the concepts behind our sketches are sometimes a little crazy, but they're easy to follow."
She said while the pandemic pushed Slow Kids more toward video projects, they are excited to go back to traditional live performances. Stio said they're "keeping it pretty simple," still considering COVID-19 concerns.
"Safety's obviously our main priority," she said. "I think we are going to limit it to maybe two or three shows this semester, maybe some video sketches. We're going to see, but we're mostly excited to perform live."
Maxfield Mascarin is a senior studying film in COM. He performed Tuesday at BU Stand-up club's inaugural showcase and said he was nervous heading into his first show ever.
"It just consumed my ego for the past few days. I just [would] go to the library and write down the same few jokes and try to make them a bit more funny," he said. "Even when I was up there [on stage], I think I made it work. The audience was really, really supportive of anything so even I just stood there, like people thought it was funny, which was a great time."
Mascarin said the showcase in BU Central was a "pretty spectacular" return to comedy on campus despite the COVID-19 limitations.
"There's nothing like hearing real laughter in the same room as people," he said. "I feel like that's really, really imperative to comedy in general, and having a good time."
Community associate Ashley Soebroto contributed to the reporting in this article.