The light seems to brighten as the music comes on. The band Mt. Joy is starting to play, and their opening song is my favorite. As the song "I'm Your Wreck" starts, I am immediately transported back to a night almost exactly a year prior. 
As a senior in high school in 2020, I was constantly surrounded by a sea of uncertainty and anxiety about the future. I was beginning my application to leave my small town in western North Carolina and move to a city that I had never visited for college. During this tumultuous, angsty period of my life, I had one night to look forward to. 
It was a night that I will never forget.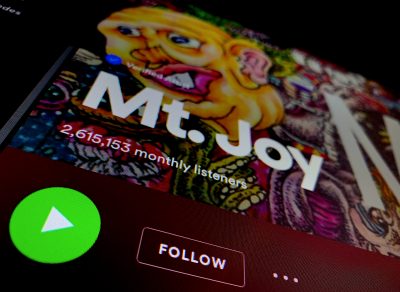 Mt. Joy was coming to my town, and the day leading up to the drive-in concert, I could forget about all of the pressures of the outside world. This was my first Mt. Joy concert, and it was long-anticipated, as I had fallen in love with their music during a tragedy that occurred my freshman year of high school. I found comfort in blasting Mt. Joy's discography on full volume until I forgot about all the evil that consumes the world — something my high school self and my current-day self have in common. 
Listening to their music live for the first time was everything I imagined and more. For the first time in a while, I felt a strong sense of home and euphoric contentment. I knew that everything would be okay. 
During my chaotic last year of high school, I would think back to the magical moment of attending the Mt. Joy concert, and all of my worries about the uncontrollable would melt away. I knew that despite my world rapidly changing around me, I would always have a constant in my life. Their songs offered me words of encouragement and a sense of nostalgia. 
Mt. Joy was there for me, comforting me during heartbreaking losses and celebrating with me when life seemed a little too perfect. 
Fast forward nine months from my first Mt. Joy concert, I graduated high school and started preparing to move to Boston — an alternate magical universe I had yet to visit. 
Moving to Boston was a culture shock for me. I was submerged in a different world. The North Carolina Blue Ridge Mountains turned into stunningly tall buildings and winding mountain roads turned into cobblestone and brick. However, the constant of my love for Mt. Joy remained steadfast through this change, as the words of lead singer Matt Quinn echoed constant reassurance to my anxious 18-year-old. 
A month after moving to Boston, I was able to experience the magic of hearing Mt. Joy live again. At the concert, I left the world of a stressed-out college student to enter a world where success is not measured by grades or the number of internships one has acquired. I entered one where everyone comes together, celebrating individuality while remaining united as the soothing, mellow music of Mt. Joy serenades us. 
I am grateful to Mt. Joy for guiding me through high school, with their warm, heartening songs like "Cardinal" and "Bug Eyes." I am grateful for their music when I am in search of comfort, and their upbeat, positive songs such as "Mt. Joy" and "My Vibe." I am grateful for their music when I need someone in my corner to celebrate. 
As I grow and shape into the person I am destined to be, Mt. Joy's fan base inevitably grows as they reach more people with their powerful music. To see them thrive is a dream. I know that as they gain popularity, they reach similar people who need a reminder that everything will be okay, and to take life as it comes. Mt. Joy's music will always hold a special place in my heart — as not all high school loves grow apart.