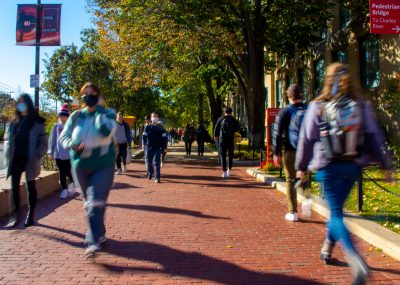 Boston University is inviting students' friends and family members to visit campus and participate in four days of mainly school-sponsored activities running from Oct. 21 to 24 this weekend. 
The events will range from open houses hosted by several schools and colleges to indoor and outdoor sporting events, as well as concerts and art exhibits. 
The BU Family and Friends Weekend website states that the vast majority of activities are free, with an exception being the Fringe Opera's $15 admissions fee and ice hockey tickets for non-students. Tickets will be required for COVID-19 contact tracing purposes for most events, and all visitors are encouraged to be vaccinated. 
BU spokesperson Colin Riley said all University COVID-19 protocols will be in effect at all events. 
"If you're inside a BU building, you need to have a face covering," Riley noted. "Unfortunately, families are not going to be able to go into the dining halls because you would need a green badge, and those are for BU students, faculty and staff." 
One outdoor event that will not require tickets is the Head of the Charles Regatta, a highly anticipated annual rowing competition along the Charles River. Onlookers will be able to gather on the Esplanade and BU Beach Saturday to cheer on the University's men's and women's rowing teams. 
"You can either go up and down to either side of the Charles River," Riley said. "As you get past the BU Bridge in Cambridge, you'll see the crowds get a little bigger and bigger towards the finish line."
The men's ice hockey team will compete against Merrimack College in Agganis Arena Saturday at 7 p.m.. The Terrier Tailgate will start two hours before the game, giving students and their visitors the chance to enjoy an outdoor barbeque with Dean of Students staff. 
"I think the Terrier Tailgate is going to be very popular," Riley said. "Probably the biggest event on Saturday."
The weekend will also feature performances from BU's marching bands, the acapella group Dear Abbey's and a play put on by Stage Troupe.
Maddie Hurysz, a sophomore at the College of Arts and Sciences and the stage manager of Stage Troupe said the group will put on two performances. 
"We're putting on a production of 'She Kills Monsters,'" Hurysz said. "Which is a really niche, dorky show, but honestly I think it's just so creative." 
The performances will take place Saturday at 8 p.m. and Sunday at 3 p.m.. 
"Anyone who wants to come is more than welcome," Hurysz added.
Along with on-campus activities, students have shared their plans to venture off-campus with their visitors to explore popular spots around the city. 
Siena Giljum, a senior in the College of Communication and president of Stage Troupe, said her mother and aunt are visiting from California and that she is looking forward to showing them around Boston after her performance. 
"I think my aunt wanted to go on some boat cruise or harbor cruise," Giljum said. "[And] we have the Family and Friends weekend show." 
COM sophomore Sydney Parker said her parents will travel from New Jersey and she plans to take them to Newbury Street and out to eat. 
"Probably to a restaurant, maybe in the North End … and then a hockey game," Parker said. 
She noted the activities are not what she is most looking forward to this weekend. 
"Just to get a hug," Parker said. "I think that would be really nice."
Given that Family and Friends weekend was virtual last year, Riley said he was "pleased" by how many families have registered to come. 
"We're seeing maybe more parents who are coming in to be with their sophomore students because they never got to come when they were freshmen," Riley said. 
Students and families looking to attend any of the University-sponsored events should visit the BU Family and Friends Weekend website to register. 
"It's almost all sold out," Riley said. "It'll be a very busy weekend."