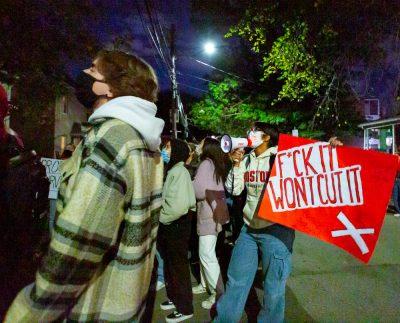 The following article contains mentions of sexual assault. 
Boston University students gathered in Allston and at Marsh Chapel Saturday to protest and demand the removal of the fraternity Kappa Sigma Mu Psi as a Student Activities Office-affiliated organization following an alleged rise in allegations of sexual misconduct by its members and at its events. 
The protest was organized by the College of Arts and Sciences Student Government and Campus Survivors, an organization established by BU students in May 2020 to provide a safe platform for survivors to tell their stories anonymously and raise awareness about college sexual misconduct. 
It's On Us Boston University, BU Mental Health Committee and 16K Strong also helped to organize the protest.
Protestors gathered outside of the Terrier Tailgate, a University-sponsored event hosted on Nickerson Field for Family and Friends weekend, before marching to the K Sig house in Allston. 
The house was dark and the curtains were drawn shut for all of the protest. 
Protestors brought out drum sticks and trash cans and began drumming while a report on the crowdsourced crime reporting app Citizen stated there was a break-in at the fraternity house, prompting the arrival of Boston Police Department officials, who allowed the protest to continue. 
BU spokesperson Colin Riley said the University is aware that the protests took place and is looking into any evidence brought forward.  
"We're aware of [the protest] and looking into whatever evidence they're presenting to the University," he said.  
Prisha Sujin Kumar, BU StuGov Senator and co-founder of Campus Survivors said she helped organize the protest to help raise awareness of the issue of sexual assault at Boston University. 
Kumar noted the history of assault allegations related to the fraternity — which she said is part of what drove the protest. 
"We've seen that they've had a culture of this dating back quite a while at this point," Kumar said. "When we first started Campus Survivors, they were the first organization that we received any story from."
Kappa Sigma lost University recognition in Feb. 2015 for circulating promotional material containing degrading images of women and glorifying sexual harassment. 
The fraternity pledged to improve its behavior in Jan. 2021, releasing a statement promising to take accusations against members seriously and work with survivors.  
But despite their stated commitments, CAS StuGov President and junior in CAS Evan Teplensky said it seems their actions have yet to change. 
"This is a history of repeated offenses," he said. "They apologized, admitting guilt, said they're going to change and it's … not happening fast enough."
Nell Curtin, a Wheelock College of Education and Human Development senior, Gamma Phi Beta sorority member and Vice President of Leadership and Chapter Development of BU's Panhellenic Council — a coalition governing the University's ten sororities — said Panhel's role, in this case, is to alert sorority members on the recent sexual assault allegations brought against Kappa Sigma. 
"We mostly wanted to give all the information to the 10 sororities that we look out for," Nel said. "We're also facilitating talks between [the Interfraternity Council] and the Panhellenic presidents."
The Panhellenic Council posted a message in support of survivors on their Instagram page Friday.  
Aanika Akkaraju, a freshman in the College of Fine Arts, chanted at the Terrier Tailgate and outside of the Kappa Sigma house in Allston. 
"I'm new, but I already know that there's a sexual assault problem in BU," they said. "I have a really loud voice and I've had a lot of experience going to protests. Even if I didn't, it's the right thing to do to support survivors and to make BU a safer place for everyone."
Akkaraju said BU should shut down Kappa Sigma entirely.  
"If a fraternity has a history of this, then enough is enough," they said. "It needs to be shut down."
CAS junior Mariana Villegas said she joined the protest due to her own experiences as a young female college student. 
"I remember my first semester of freshman year, a ton of girls that I had just met literally gathered around in a circle and everyone was sharing their sexual assault story," Villegas said. "Some talked about how they were raped too." 
Villegas said she believes BU is not doing enough to protect its students. 
"This isn't just some statistics," Villegas said. "This is me, this is my friends, the people around me, men too." 
Sujin Kumar noted the ineffectiveness of BU's mandatory online sexual assault training. Effective Sept. 2021, retraining of all new and returning students, faculty and staff became required. 
"I have not met a single person who remembers what happens in the training," Sujin Kumar said. "You can skip through the training without really understanding any of the information. It's not really meant to educate."
Curtin said fraternities and sororities on campus are actively working on increasing preventative measures such as having sober members present at off-campus events — a practice already present at sorority events — and holding additional sexual misconduct training sessions. 
She added the Council asks that fraternities exclude brothers who have a history of engaging in behavior that puts others at risk from attending parties. 
Teplensky said though the University appears to have a culture of protecting abusers on campus, the community wants to rectify it.
"I do think that there is a culture, but I think that the community wants it to change," Teplensky said. "I think it's the administration that is not allowing it."
Kappa Sigma could not be reached for comment. 
Nick Kolev, Standards Chair of the Board of Directors and previous Campus News Editor, is a member of Kappa Sigma. He was not involved in the editing of this story.
Victoria Bond, Secretary of the Board of Directors, is the president of the panhellenic council. They were not involved in the editing of this article.